3 ingredient Easter egg brownie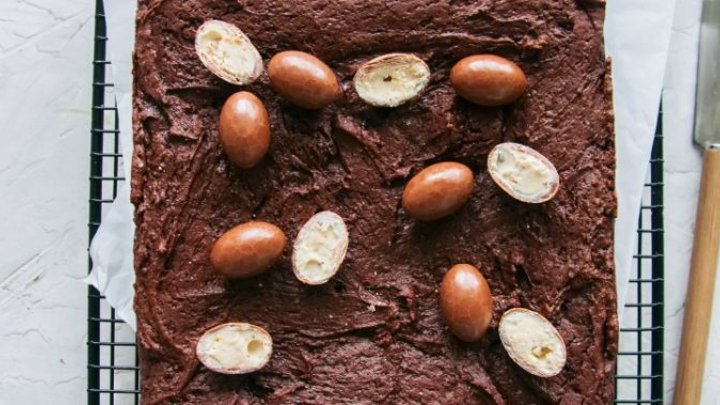 3 INGREDIENT EASTER EGG BROWNIE
Need an excuse to eat even more chocolate this Easter? Or just use up the leftover eggs laying around the house?
Inexpensive and delicious, these marvellous brownies really live up to their name. Loaded with chocolate eggs, this is the ultimate Easter dessert, and it's fair to say, they're so tasty your guests will be begging for the recipe.  
Just add two pantry staples and this decadent chocolate brownie will be ready in no time.
3 INGREDIENT EASTER EGG BROWNIE
INGREDIENTS
600g Easter eggs (your choice)
4 eggs
1 cup (150g) self-raising flour
Method
Preheat oven to 160°C. Grease and line a 21cm square cake pan with baking paper.
2.Place 520g chocolate eggs in a food processor and whiz until chopped. With the motor running, add eggs, 1 at a time, whizzing until smooth. Add flour and whiz for a further 30 seconds or until thickened and combined.
3.Pour batter into lined cake pan and smooth top. Halve 40g remaining eggs, then place on top of batter, pressing down lightly. Bake for 25 minutes or until the edges are just set but with a gentle wobble in the center.
4.Cool brownie in pan for 20 minutes. Remove from pan and serve with remaining 40g eggs for a little more chocolate decadence.
Find More easy bakes here