Bloom and Nora Reusable Sanitary Pads -Review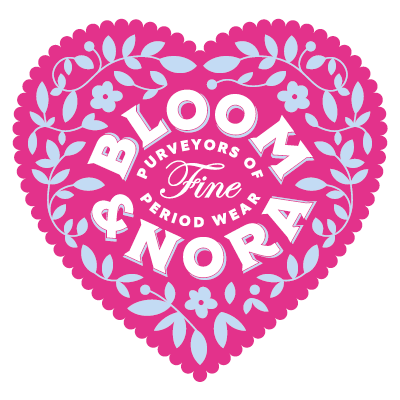 I am no stranger to reusable sanitary products, I tried Wuka period pants and was not only surprised about how much I loved them but also how well they worked. No leaks so far! You can read about them here.

Due to my new love of plastic free sanitary wear, I started to think about other products available to not only help eliminate unnecessary plastic use but to help stop period poverty. I have written many times about the shocking statistics of women who can afford sanitary products and reusable's would really help combat this.
In walked Bloom and Nora in to my DM and answered my prayers, they wanted to send me one of the kits in return of an honest review and I was happy too. This was something I had wanted to try but just didn't know where to start. Award winning reusable sanitary pads from Bloom & Nora are ethically made right here in the UK, they are the ultimate eco-friendly alternative to disposable pads.

I am a pad wearer, I can't do tampons for everyday use. I know this may be odd to some, but I just prefer pads to catch my monthly's. So Mooncupsand the likes aren't an option for me.

· Women use more than 11,000 disposable menstrual products in their lifetime – based on average of 38 years of menstruation using 22 items of sanitary products per cycle, 13 cycles per year.
· Statistic estimated that in 2016, an estimated 1.8 million women (aged 15+) in the UK used 25 or more menstrual towels a month.
· Average menstrual flow is around 85g per cycle. Barely enough to fill a small teacup. Most women and people who menstruate will do so for on average of 38 years and have approx. 500 periods in their lifetime.
· There are around 18 million women of menstruating age in the UK
(stats according to https://www.wen.org.uk/environmenstrual-in-numbers)
So why reusable pads –
· Bloom & Nora pads are made from Oekotex certified materials, so you know exactly what you're putting next to one of the most porous parts of your body.
· The time it takes for a tampon or pad to degrade in a landfill is centuries longer than the lifespan of the woman who used it.
· During her menstruating years one woman can use up to 15,000 products most of which end up in landfill or littering our beaches.
· Did you know that single-use plastic items frequently do not make it to a landfill or a recycling plant either? Earthday reports that 32% of the 78 million tons of plastic packaging produced annually flows into our oceans; the equivalent of pouring one bin lorry of plastic into the ocean every minute.
· There are 1 million plastic bottles sold per minute. Bloom & Nora are taking extra steps to reduce over consumption and are the first reusable sanitary pad brand to use waterproof fabric made from recycled plastic bottle waste. As well as stopping around 20 single-use tampons/pads from landfill each month, it's now
possible to divert and reuse plastic bottle waste destined for landfill too, one period change at a time.
The lovely Amanda helped me through it all, she recommended the Bloomers Full Kit Boudoir which retails at £69.99.
This includes 4 Mini pads are perfect for light days or flow, 4 Midi for regular days and 2 Maxi which you can use overnight or for heavy days. Plus, a Bathroom bag for storing soiled pads in before washing, and Out and About Bag for changes on the go, everything you will need for your period. Bloom and Nora recommend 10-12 pads for a normal period, assuming you'll wash every couple of days. The full-kit gives you a range of our most popular sizes, so when Aunt Flo settles in, rest assured they have got you covered!

the Bloomers Full Kit Boudoir

What do Bloom and Nora say about the pads, "Super absorbent, super soft, just wash and reuse. Bamboo bloomers are perfect for those who prefer natural fabrics next to skin. The unique stay dry binding is the perfect barrier against sneaky leaks and keeps everything in the absorbent bamboo core."

When I opened the bulging bag, I have to admitted I got a bit of a shock as they seemed massive and I had flash backs to the maternity ward and the super large pads us ladies are given after birthing. They were very soft though and with very cool designs. Amanda had given me a mix of "colour" and "white" pads and I found myself picking the colour ones as the idea of red on white filled me with dread.
The first day I tried them, I was pleasantly surprised at how they felt once on. It was just like any other pad feeling and with the popper tab and a good pair of cotton pants I had no movement from the pad. It really wasn't much different at all.

The thing I did struggle with was the storing in-between washing and getting into a regular washing routine for them. I know this will come with practice and just a little blip I know I will work out eventually. I also found changing them and keeping the soiled pad while I was out a little tricky to get my head around but its for the sake of the planet, right?!
Overall, I am surprised how comfortable they were but I'm still trying to get my head around the cleaning up, washing etc I don't think I will get rid of my Always ultras completely just for those more fuss free moments, but I have made a massive start in the journey of going completely plastic free with my sanitary products.

If you would like to try and no plastic free with your sanitary products, Bloom and Nora are a great starting point. You can check them out here – https://www.bloomandnora.com/

Have you done anything to reduce your plastic use?