Cinnamon Sugar Soft Pretzels – 2 INGREDIENTs!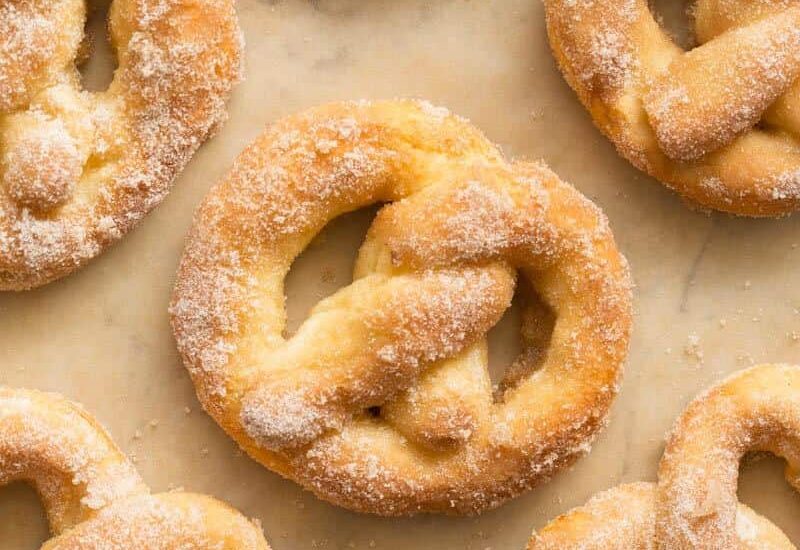 These homemade cinnamon sugar soft pretzels are my new obsession.
Inspired the Cinnamon Sugar Soft pretzels I had in New York, I had to give them a healthy makeover!
No yeast.
No dairy.
Zero butter.
Made in one bowl and with NO fancy mixers or kitchen gadgets needed, you have NO excuses not to make it.
I've been enjoying them as part of breakfast, as a snack and even as a dessert before bed!
Taste-wise, they are sweet, warm, spicy and LOADED with sweet cinnamon flavor.
Texture-wise, they are soft, doughy and fluffy in the centre, with a tender exterior. 
Ingredients
Instructions
Preheat the oven to 180C/350F. Line a large baking tray with parchment paper and set aside.
In a large mixing bowl, combine your flour with yogurt and mix well, until combined. Using your hands, form into a ball of dough.
Lightly flour a wooden or kitchen surface. Add a tablespoon of flour onto the ball of dough, and transfer the dough onto the floured surface. Press into a ball shape, and divide into 8 equal pieces.
Re-flour the surface and get one of the pieces of dough. Using your hands, roll out into a thin, sausage shape, around 12 inches (30 cms) long. Grab both ends of the dough connect in the center, before twisting once through, to form a pretzel shape. Repeat the process until you have 8 pretzels left. Place the soft pretzels onto the lined tray.
If desired, brush the tops of each pretzel with either milk, butter, oil or even water. Bake for 17-20 minutes, until golden brown on top. Remove from the oven and let cool for 10 minutes.
While the pretzels are cooling, mix together the cinnamon and sugar/sugar substitute. Spray both sides of the pretzels with cooking spray and moving quickly, dip both sides of the pretzels in the cinnamon mixture, until evenly covered. Repeat until all are covered and enjoy or let cool completely.
Find some more easy bakes – Here