Fantastic Female – Arabel Lebrusan, founder of Lebrusan Studio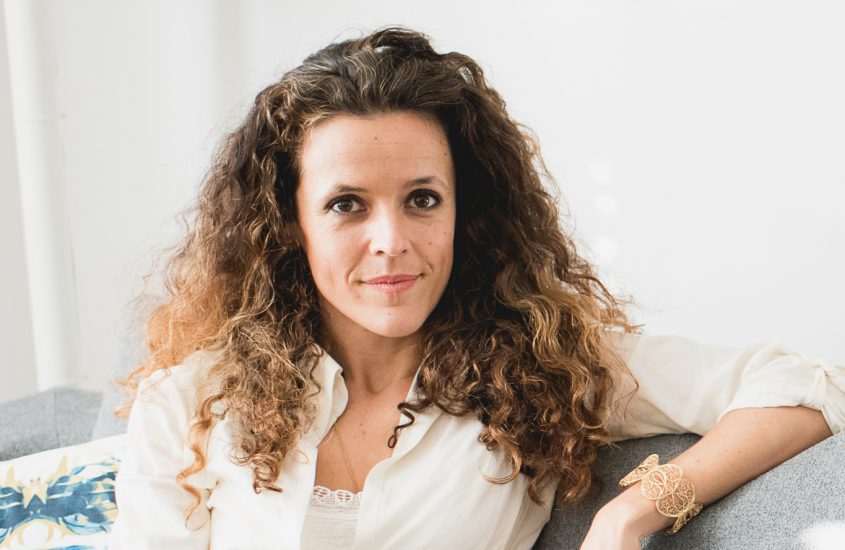 Arabel Lebrusan, founder of Lebrusan Studio www.lebrusanstudio.com
My name's Arabel Lebrusan and I'm an artist, designer and, as one of the world's very first Fairtrade Gold licensees, a key founder of the ethical jewellery movement. Born and raised in Spain, I studied Gemmology and Fine Art in Madrid and Utrecht, Holland.
Since then, it's been almost 20 years that I've been dedicated to beautiful jewellery. I began my journey as a fashion jewellery designer, travelling the Far East and learning the ins and outs of the trade as I went; the good, the bad and the ugly.
Unsettled by much of what I'd witnessed, a Master's in Design at London's Central St. Martin's followed, with a deep investigative focus on ethics in the jewellery industry. I then went on to spend five years as Creative Director of Leblas Jewellery – the first ever ethical jeweller on London's famed Sloane Street – before winding up as designer and conductor of my very own brand, Lebrusan Studio and is also the co-founder of The Vintage Ring Company www.thevintageringco.com
Today, I use my platform as an artist and designer to establish social commentaries and ultimately try to succeed in altering the face of the luxury jewellery industry for good
FANTASTIC FEMALE – ARABEL LEBRUSAN, FOUNDER OF LEBRUSAN STUDIO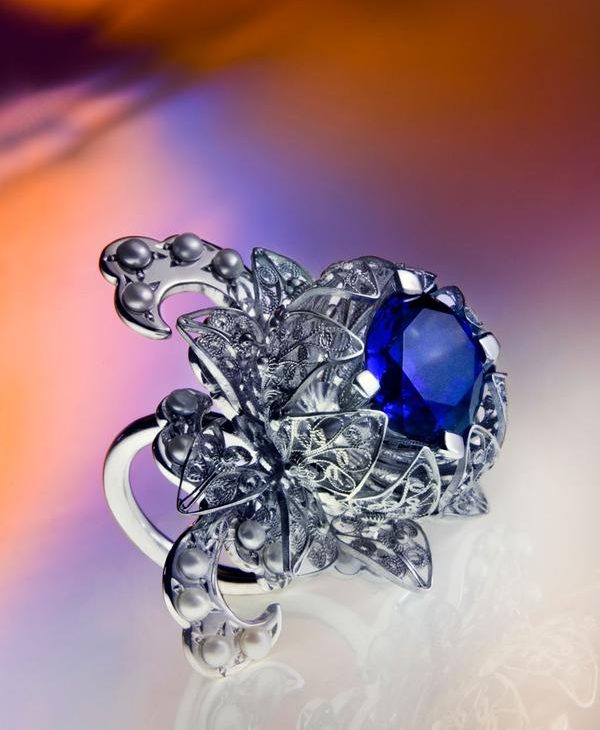 How did you balance being a mother and professional?
Through much trial and error! I've carefully crafted my business into one that's largely autonomous; I employ a small team, each with an important and dedicated role. The entire business is based online – from the customer-facing shop to all of the admin behind the scenes. These remote but reliable aspects allow me to work from wherever I happen to be in the world. This model affords me plenty of time at home, the ability to work on the go, and thus the freedom to take five minutes with my family when necessary.
Who inspired you and why?
What initially drove me to begin pioneering ethical jewellery was the state of the jewellery industry as I found it when I began working as a fashion jewellery designer nearly 20 years ago. I still recall my trips to Hong Kong in my late 20s and the incredible stones and pearls that surrounded me. Though blown away initially, I quickly became aware of the dark side of the jewellery trade and everything that was wrong with the precious metal and gemstone industry: the cheap prices, the child labour, the abuse of natural materials and the appalling mining conditions. When I was researching for my Master's in Ethical Jewellery, I was told bluntly by a London diamond dealer: "When you work in this trade, you sell your soul to the devil." It was at that point that I became adamant to make changes.
Now, as Creative Director of my very own ethical jewellery brand, the people who most inspire me are the people I work with; from small-scale miners to skilled stonecutters and hand-engravers, my colleagues and my business partners. We are all valuable assets in a sturdy, interwoven net that uplifts me every day, providing me with a sense of purpose and the drive I need to continue creating.
What advice would you give to young women who want to succeed in the workplace?
The world is overflowing with voices; some much better at shouting than others. If you are to carve yourself a long-term place in your field, it's crucial that you are not just unique, but authentic. Take some time to sit down and really consider what it is that makes you unparalleled. What's your innovation? What's gorgeous about what you do? What makes you stand head and shoulders above the thousands of others like you? Once you've found the answers to these questions – and you believe in them – you are unstoppable.
Do you think women feel intimidated in business?
Sometimes when I observe women in the jewellery industry I sense that they've been left with no choice but to adjust to a masculine environment, adopting characteristics like individualism, lack of empathy and a hesitation to share knowledge – just as a means of surviving. Sadly, I sense that this is not an issue unique to the jewellery industry – and I do feel that it's a remaining indicator of the low-lying, often undetectable intimidation felt by women in business. I believe that gender equality can only be achieved if we build our industries based on certain feminine traits, too – like compassion and a desire to nurture. We should be sharing knowledge, supporting and encouraging one another and trusting our senses when we feel that something is unjust. This approach would create an uplifting environment sewn with opportunities for female businesswomen to lever one another and seek new positions.

FANTASTIC FEMALE – ARABEL LEBRUSAN, FOUNDER OF LEBRUSAN STUDIO
Where will we find you on a Saturday morning at 10 a.m.?
I try my hardest to make time at the weekends for practises that slow the pace of my thoughts. As a business owner and a mother (amongst many other things!) I spend a large proportion of my life feeling as though my brain's moving at a million miles an hour. On a Saturday morning you'll find me meditating or hanging in downward-facing dog! SPACE yoga is based in the same building as Lebrusan Studio's showroom, and they're currently offering fantastic Zoom classes.
What do you love about your job?
One of the best parts about being Lebrusan Studio's founder is the freedom that it allows me. I could be pitched up in a cabin in the back of beyond and still communicate with my staff and clients on an immediate basis; that's the beauty of running an online business. I'm not bound to one place; I can offer 100% from whichever continent and time zone I find myself in. Being Lebrusan Studio's frontrunner has also presented me with opportunities to meet so many outstanding people along the way; fountains of knowledge who have taught me lessons for life. Every day, I'm working alongside knowledgeable, hardworking and inspiring individuals.
I also love how my job affords me the opportunity to be constantly creative; not only in my designs, but in the way I run my business. Though I see the appeal of a 9-5 job, I could never be bound to a routine based on repetitive, mind-numbing tasks.
All in all, though, my favourite part about my job is making people happy with my jewels.
What's the best career decision you've ever made?
Refusing to accept things for the way they were!
What's the worst career decision you've ever made?
As "peace and love" as it might sound, I genuinely don't think there's any such thing as a bad decision. Slip-ups and curveballs are just vital steps in a long journey to becoming a better person; they shape us into who we are today. Don't get me wrong – I've found myself in some tricky situations throughout my life and felt awful about it. But, with enough time and distance, what once felt like a bad decision only transpires to be a valuable lesson learned.
How do you organise your time?
I tend to structure each day similarly to the last, following a prototypical routine with consistent chunks of time dedicated to each area of my life.
The early morning is dedicated to mother duties; running around like a headless chicken, tidying and organizing and packing my son off to school. Once Jojo's at school, I spend the rest of the morning working on my art and one-of-a-kind jewels in my studio at home. In the afternoon, I come into the office and I deal with the urgent stuff, the business side of things. Evenings are a combinations of mummy time, dance classes, cooking – and a final helping of work before I go to bed. I tend to work on the websites of both businesses late at night, because it's the quietest time of day for internet traffic. Life's quietened down at that point, so I can give the work my undivided attention.
What do you think is your greatest strength?
My passion. The Spanish fervour in me overflows when I speak about the jewellery industry's issues and I think that's a voice that makes people want to listen and inspires others to follow.
What do you think is your greatest weakness?
My constant desire to do too much. I'm unrealistic about time and totally overestimate what I'm capable of squeezing into 10 minutes!
How do you make decisions?
With my gut.
What do you read?
At the moment, I'm really enjoying reading up about the lives and works of revolutionary female artists, like Louise Bourgeois' Destruction of the Father, Reconstruction of the Father: Writings and Interviews, 1923-1997. I'm also just about to get stuck into The Uncanny by Sigmund Freud. There's nothing more soothing than awarding your soul an intellectual framework with which to understand the world at this strange time.
What do you think are the secrets behind getting to where you've got to?
Pure determination and unfaltering self-belief.
The harsh reality for jewellers like me, who wish to create sustainable pieces, is that ethics majorly limit material and manufacturing options. 10 years ago, when I first started out in the field, the process of bringing an ethical jewel into fruition was unbelievably awkward and arduous. What we're working with is an old-fashioned industry. Many of the people involved are of early generations and would prefer if things simply stayed the way they were 30 years ago. The old boys and large diamond companies who control the market are adamant not to disclose the provenance of materials. At so many points on my journey I so easily could have admitted defeat in the face of resistance – but I never lost sight of my cause. I know that what I do is necessary, and it's this belief that's seen me all the way through to today.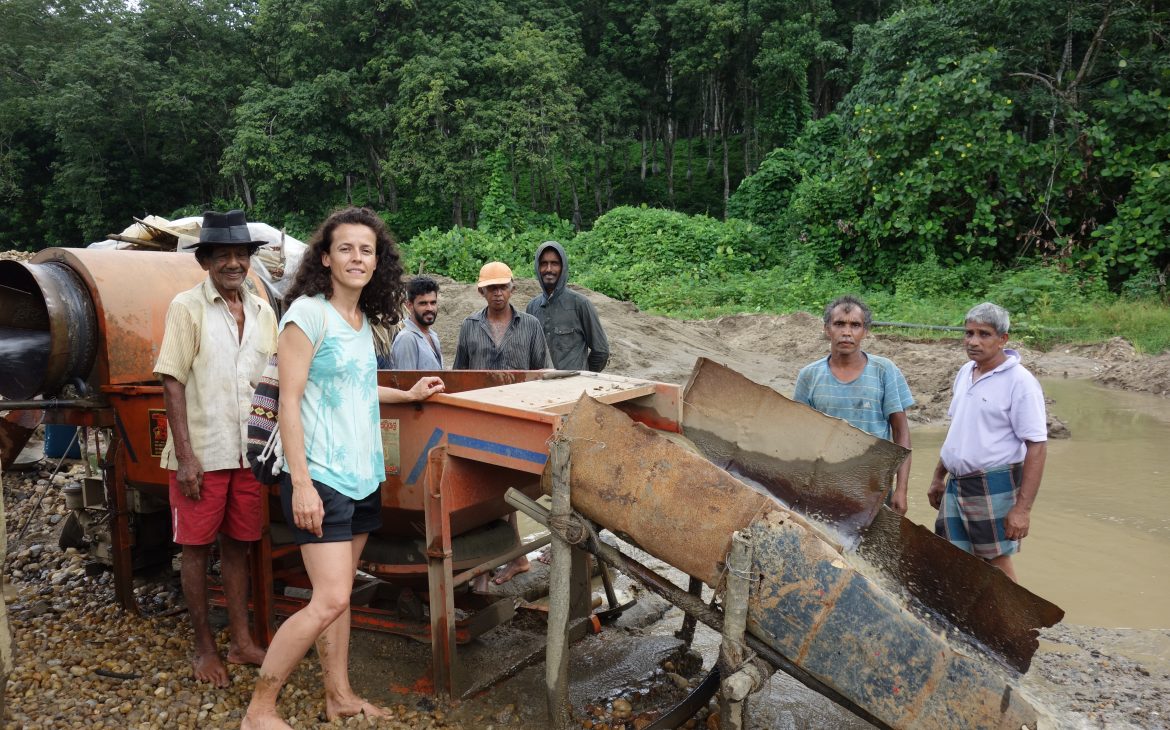 FANTASTIC FEMALE – ARABEL LEBRUSAN, FOUNDER OF LEBRUSAN STUDIO
Twitter – https://twitter.com/LebrusanStudio
Facebook – https://www.facebook.com/LebrusanStudio
Youtube – https://www.youtube.com/user/arabellebrusan
Pinterest https://www.pinterest.co.uk/lebrusanstudio/
Instagram – https://www.instagram.com/LebrusanStudio/
Find more Fantastic females HERE
FANTASTIC FEMALE – ARABEL LEBRUSAN, FOUNDER OF LEBRUSAN STUDIO
FANTASTIC FEMALE – ARABEL LEBRUSAN, FOUNDER OF LEBRUSAN STUDIO