Fantastic Female – Author Dr Helen Jacey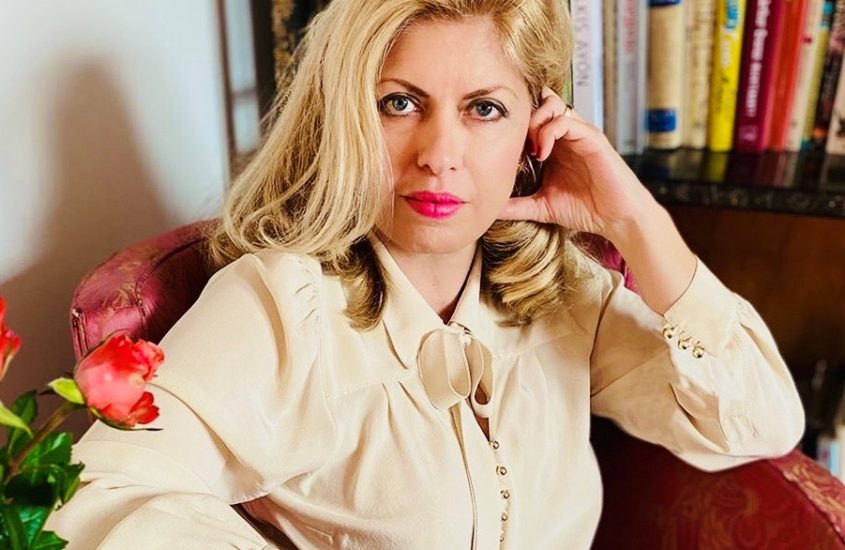 FANTASTIC FEMALE – AUTHOR DR HELEN JACEY
A single-parent, Helen started her company in 2018 to provide opportunities across media for intersectional feminist work. Helen has an MA in Screenwriting from the London Institute and a doctorate from the University of Arts London. An expert in female characterisation, her first book The Woman in the Story was published in 2010 and has since become renowned as the international handbook for screenwriters creating female characters. Shedunnit Productions has a transmedia focus, supporting novels, film and TV, and music.
Helen is the author of three novels that overturn the traditional crime genre and introduce a new form: feminist noir. Inspired by 1940s crime thrillers, Helen's Elvira Slate Investigations series tells the disallowed histories of many 1940s women through her fiction.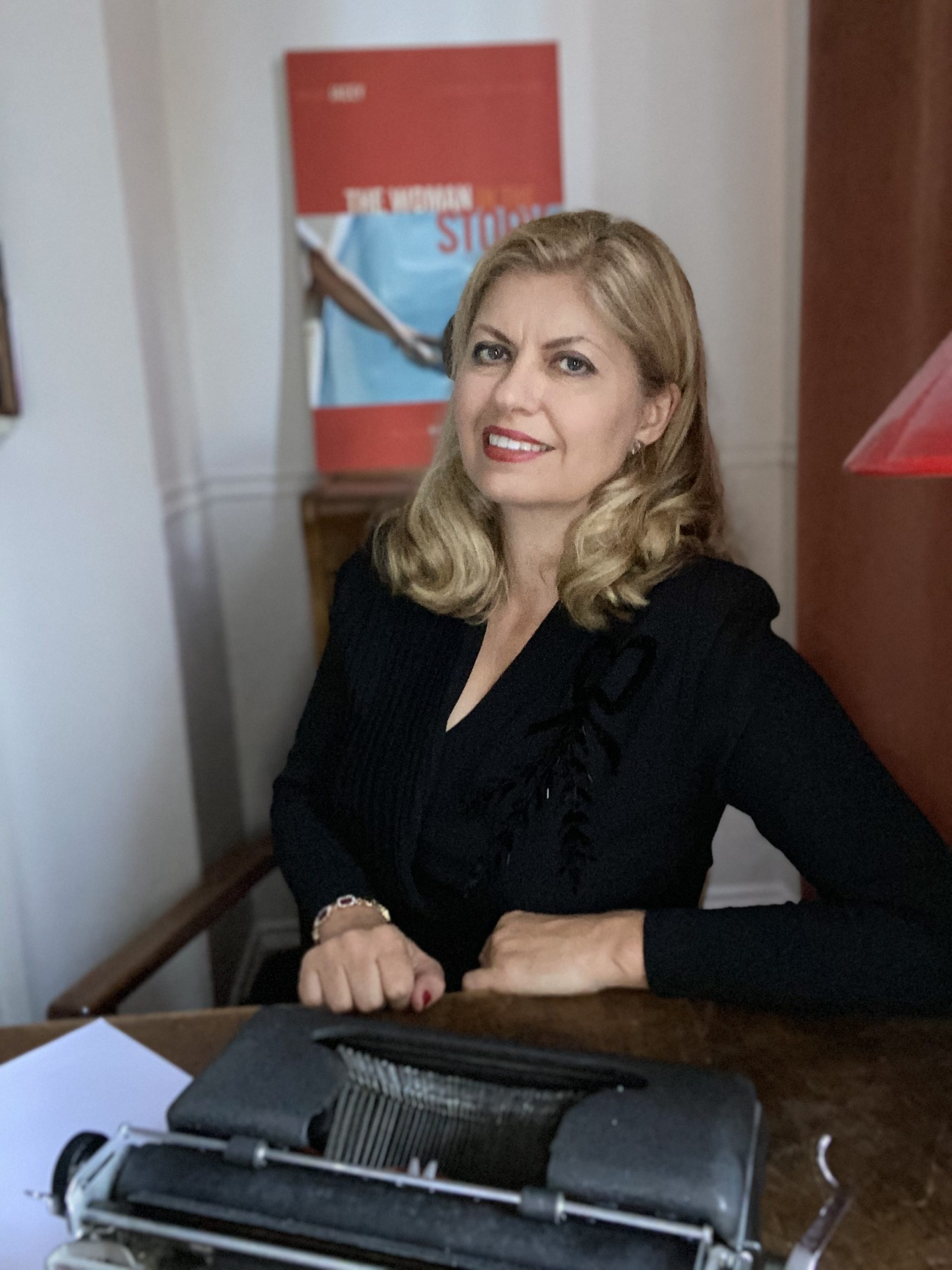 How did you balance being a mother and professional?
Being a professional and single mother has its own challenges, but not having a career was never an option for me: having a professional identity and career goals were central to my well-being and identity. I was lucky to have a lot of extended family support when my son was very young. Having said that, I've had my fair share of maternal guilt, although I resist that concept because it's not something men experience to the same extent. It's still more universally accepted for men to be primarily identified through what they do rather than their role as a father. In the spirit of equality, I think women need to liberate themselves from the guilt they aren't good enough, as hard as it still is! At the end of the day I wanted my son to know he was the most important thing in the world to me, even if I was really busy and working away.
What have you sacrificed (both personally and professionally) at each stage of your career?
I love the phrase letting go of the good to make way for the great, although when you are letting go of something to make room for something else, it doesn't always come easy or without risk. I 'lost' or gave up something up with each evolution of my career – professional identity, security, a network, time and relationships! My first career in the voluntary sector was fantastic, but I ignored my urges for a creative career. So that was a kind of inverse 'sacrifice', although being young, I wasn't aware of it. When I embarked on my Masters, I gave up a successful career, and all the security that comes with it. When I gained my PhD and wrote my first book on how to write female characters for screen and TV, I sacrificed time from my own writing and projects, which again affected my identity because I was discovering and embracing a new entrepreneurial side of myself. I became a 'guru' for a while, sought out for my expertise on the subject, and worked across many fields to promote gender equality in screenwriting. Now, I've set up Shedunnit Productions to return to my own writing projects, and that's now my big focus going forward. But it has required me to scale back to make room. As in nature, life requires pruning!
Who inspired you and why?
One of my biggest inspirations is Ida Lupino, the Old Hollywood actress, who was one of the first female film directors and the first woman to direct a noir movie. She was also born in South London! She resisted the male domination of Hollywood by rejecting the stereotypical roles she was often offered in the '30s and early 1940s. She hated the 'male gaze' and control of Hollywood and put her money where her mouth was by setting up her own production company. The films she made explored the vulnerability of single mothers, the disabled, and people who felt victimised in society. She ducked and dived around the constraints of the censorship body in Hollywood to tell the stories she wanted to tell. She was anti-celebrity and often cast unknowns, which was brave. She inspired some of my characters in my novel Jailbird Detective who make their own way in a patriarchal society.
As far as contemporary women go, I hugely admire Oprah Winfrey – everything she stands for, how she deeply connects with a huge international and diverse audience, and what she has achieved as a black woman entrepreneur in the US. Her empathy, tolerance, understanding, compassion, brilliant communication, have affected so many people, in so many ways, and across so many platforms. She is the perfect example of humanitarian values instilling her brand. Her success is because everything she does reflects her values.
What advice would you give to young women who want to succeed in the workplace?
Having confidence in yourself is the biggest gift you can give yourself. Also, keeping an eye on the big picture of where you want to go, and how you are going to get there. If you feel stuck, honour that feeling and think about strategies to help you move on. Don't be afraid of letting go because change can be vital for growth. I believe having a mentor can be life-changing in these respects. Have the confidence to ask someone you admire, not necessarily one in your workplace, but somebody outside. They might be flattered, or suggest somebody else. Somebody who has been there, and can share their experiences, and help you put your experiences and aspirations into context.
Do you think women feel intimidated in business?
I sense from my own experience of my start-up that women in business are smashing glass ceilings, through campaigning, professional membership groups (hint: join one!). Awareness that diverse women can have very different experiences in business is vital. We all have different experiences of intimidation and/or obstacles – be it ethnicity, class, age, and other factors such as disability. Generally, in groups that are male dominated, women can feel outsiders because men have different communication styles – banter, hierarchical behaviours, lack of sharing, competitiveness and, at worst, machismo which many women don't relate too. We still have to kill the 'inner good girl' who aims to please powerful men. There has been a big focus in recent years on the lack of investment women get for their products, because male financiers sometimes don't get excited by the female skewed products, so this can be an institutional disadvantage which women have to challenge.
Where will we find you on a Saturday morning at 10 a.m.?
Sitting up in bed, with a cup of coffee, and a pen in my hand, plotting my novel. I started running this year, but I've realized that mornings are my precious thinking time, and my body likes to exercise late.
What do you love about your job?
I absolutely love writing, and plotting complex crime novels for women who want to read about a very different and inclusive old Hollywood. I equally love building the Elvira Slate 1940s female detective brand through Shedunnit, being in control of the vision and style, and finding new fans through various campaigns.
What's the best career decision you've ever made?
Setting up Shedunnit Productions. I feel it's exactly where I need to be at this time of my life. It's also the most enjoyable, stimulating and empowering thing I have ever done.
What's the worst career decision you've ever made?
I've had a few 'shoulda woulda coulda' situations, when I probably should have done something different to what I did! But 'mistakes' often are the unconscious at work, taking you somewhere you need to be. I had a lockdown task of sorting out old papers and found an application to the National Film School for a film directing MA, ten years before I actually did my screenwriting MA. I wanted to be a film director. I didn't send the application off, as I wasn't ready and couldn't see how I could afford it! So, it didn't happen, and the path I followed took me places and enabled me to do things that made me who I am. I also discovered I am a storyteller at heart and writing is my primary way of telling stories.
How do you organise your time?
The creative parts of my job – writing – really gobbles time to an extent most non-writers don't appreciate. And you have to 'lose yourself' for great work, without interruption. Look out how many male writers and artists throughout history have the outside space away from the family. But even if I do manage chunks of freedom, now I've got a business, I can't look away for too long. Essentially my attitude to time is a mix of planning and flexibility. I'm trying to be more project-orientated in my approach, which is helpful when you have many different goals competing for your time.
What do you think is your greatest strength?
Emotional truth. I like to know how people are feeling and why, including myself, and working it out, and getting things out in the open. I think recognizing people's feelings and helping people feel inspired about what they can achieve is a related strength.
What do you think is your greatest weakness?
Sometimes spreading myself too thin, with unrealistic expectations of what is possible when, then feeling stressed the plan's gone awry! Likewise, the work/life balance can suffer. When you are a writer, your mind is always at work. Even if I'm on a beach, I can't stop myself entering my imagination.
How do you make decisions?
Having Shedunnit has unleashed a new decisive me, which I'm still getting used to. In the past I would take too long, weighing things up, taking my time. Having business deadlines, publishing books, means sometimes I haven't had time on my side, and I've had to leap, trusting my instincts.
What do you read?
Fiction by lesser known 20th century women novelists, Golden Age detective fiction crime – if only to know what I don't want to do in my feminist 1940s world! Biographies and memoirs, of filmmakers and creatives. Business management books. I spend more time watching TV series than reading, as we are living in a Golden Age of TV, and I don't want to miss 'seeing' great stories.
What do you think are the secrets behind getting to where you've got to?
Working hard, and tenacity is high up the list. I'm a completer. I think finishing what you start out to do is vital. Having a big imagination and being passionate about what I do are equally important. Cliché, but it's important to do what you love. And not being (too!) scared of change and taking a few risks.
For more information or to connect
Instagram @shedunnitproductions
Facebook @shedunnitproductions
Twitter:@shedunnit
Linked in: @helenjacey
Please Links to the books below.
https://www.amazon.co.uk/Jailbird-Detective-Elvira-Slate-Investigations-ebook/dp/B07HMMXXJD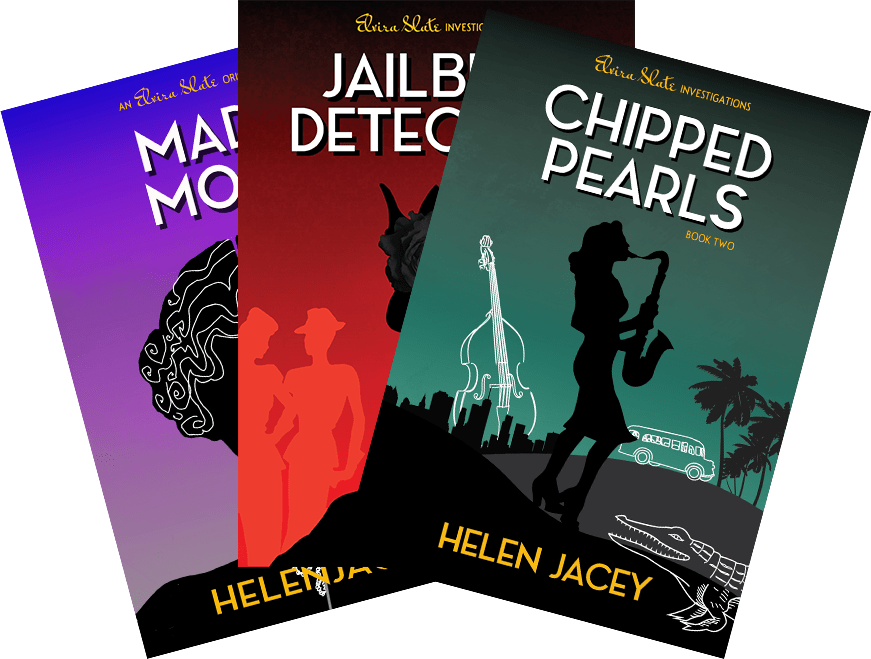 More Fantastic Females HERE