Fantastic female – Eleanor Churchill founder of Ellamé Designs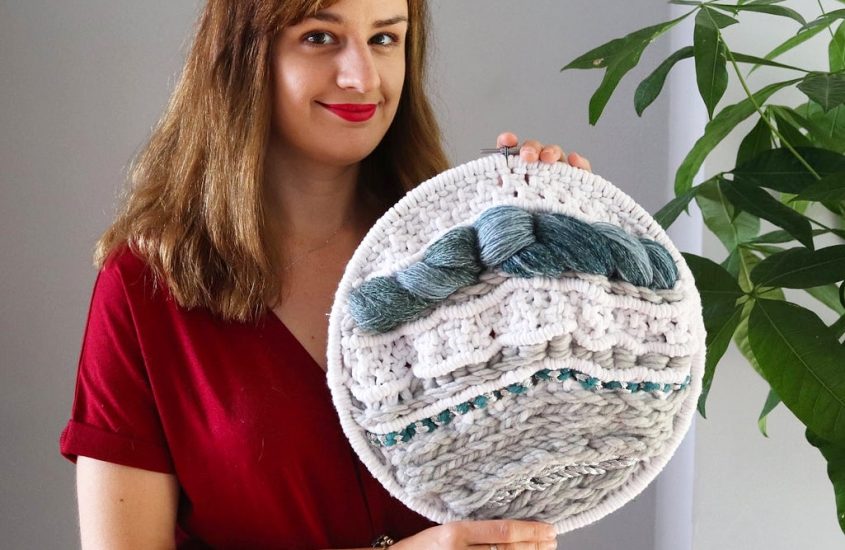 Eleanor Churchill is the lady behind Ellamé Designs, the handmade, contemporary macrame homeware and accessories business based in Manchester. She is the owner and artist, as well as being a drummer in the band China Moon and a passionate cat enthusiast.
Eleanor set up Ellamé Designs in late 2019. This started with creating macrame products purely for personal pleasure, a way to brighten up a newly purchased home and keep potentially poisonous plants out of reach of feline friends. The first macrame product she made was a plant pot hanger. This soon turned into a full-time, independent business where she now designs and makes bespoke macrame pieces for interiors internationally, using 100% cotton rope. She has developed her business throughout the covid-19 pandemic and has seen an overwhelming demand with people wanting to revitalise their spaces with her unique pieces.
FANTASTIC FEMALE – ELEANOR CHURCHILL FOUNDER OF ELLAMÉ DESIGNS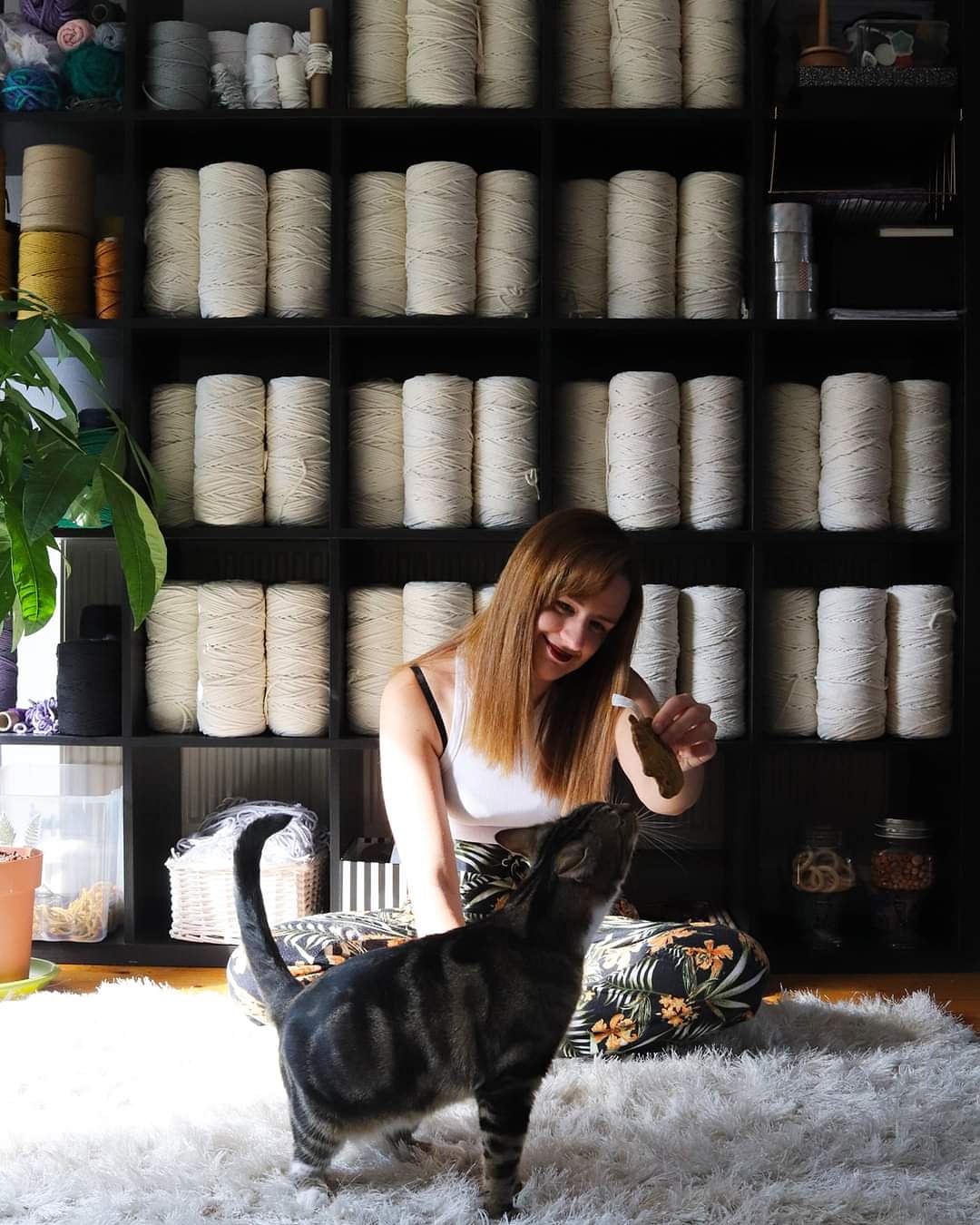 What have you sacrificed (both personally and professionally) at each stage of your career?
I think time with friends and partners would be something I may have sacrificed in the past in order to work longer hours and grow my career, but I feel I have generally split up my time pretty well, so I don't really feel like I've necessarily sacrificed a lot.
Who inspired you and why?
I wasn't inspired to start macrame by a person, I had seen macrame plant hangers in homeware blogs and wanted to create my own for my home, so I made on that led me on to create wall hangings. After I followed a few YouTube tutorials I started following a lot of American based macrame artists as the craft is much more popular over there than it is here.
I really love the artist Milla Nova also, she creates large-scale wall hangings in beautiful metallic golds and copper colours. She has an amazing precision and attention to detail and really cares about her art.
What advice would you give to young women who want to succeed in the workplace?
I would say treat people how you would want to be treated yourself, but always stick to your guns and don't let other people steal your dreams. Just be proud of yourself, believe in yourself and the rest should follow. It's easy to become intimidated in a room full of powerful people, but if you are passionate enough and you love what you do you can achieve anything.
FANTASTIC FEMALE – ELEANOR CHURCHILL FOUNDER OF ELLAMÉ DESIGNS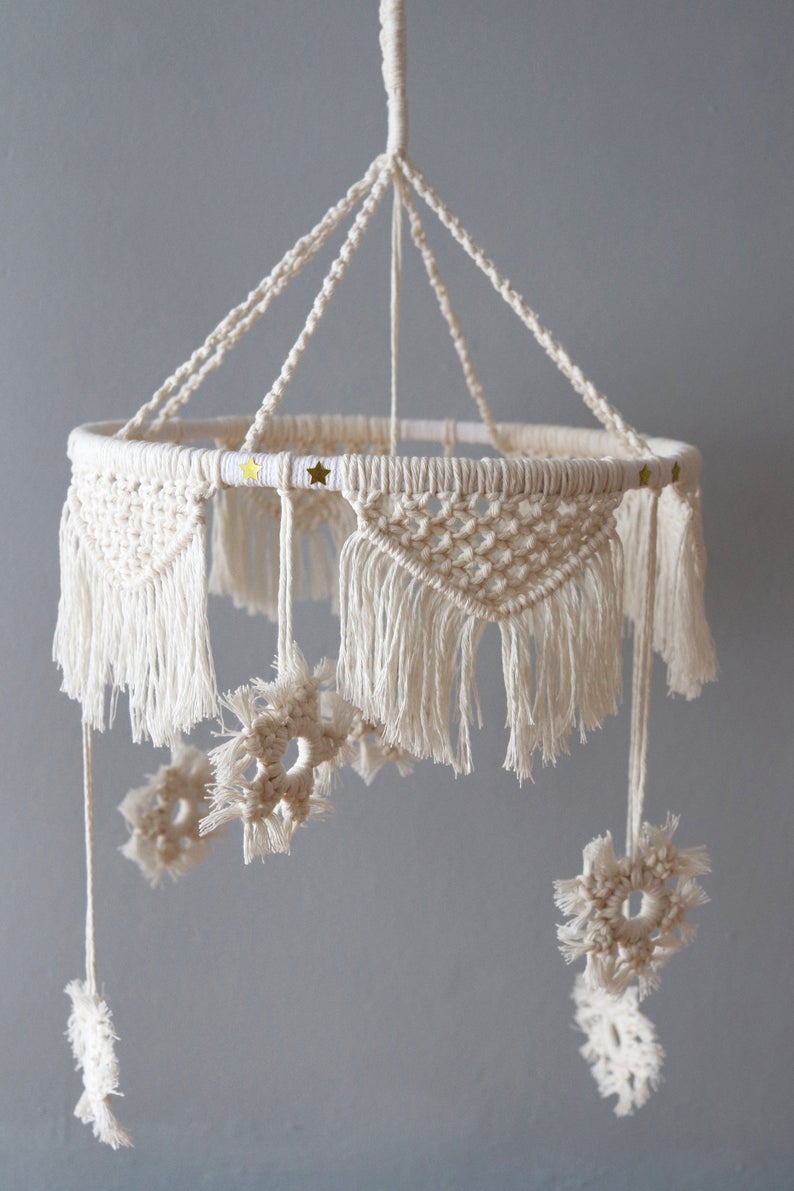 Do you think women feel intimidated in business?
I think some will and some won't. I think because of the way the world works, men have always been in a position of power in many areas of the workplace but it doesn't mean that's how it should be by any means. Women need more role models to look up to, like if Elon Musk was a woman, I'm sure that other women would feel like they could achieve the same things.
People are used to people at the top being men, so it gives off this expectation that its somehow the role of men to be in those positions, but it's just not true. Things are changing and over time things will be better.
Where will we find you on a Saturday morning at 10 a.m.?
I'll usually be starting a new wall hanging! I work at the weekends usually, even if it's just a small piece. Saturday nights are actually a great time to start a new design!
FANTASTIC FEMALE – ELEANOR CHURCHILL FOUNDER OF ELLAMÉ DESIGNS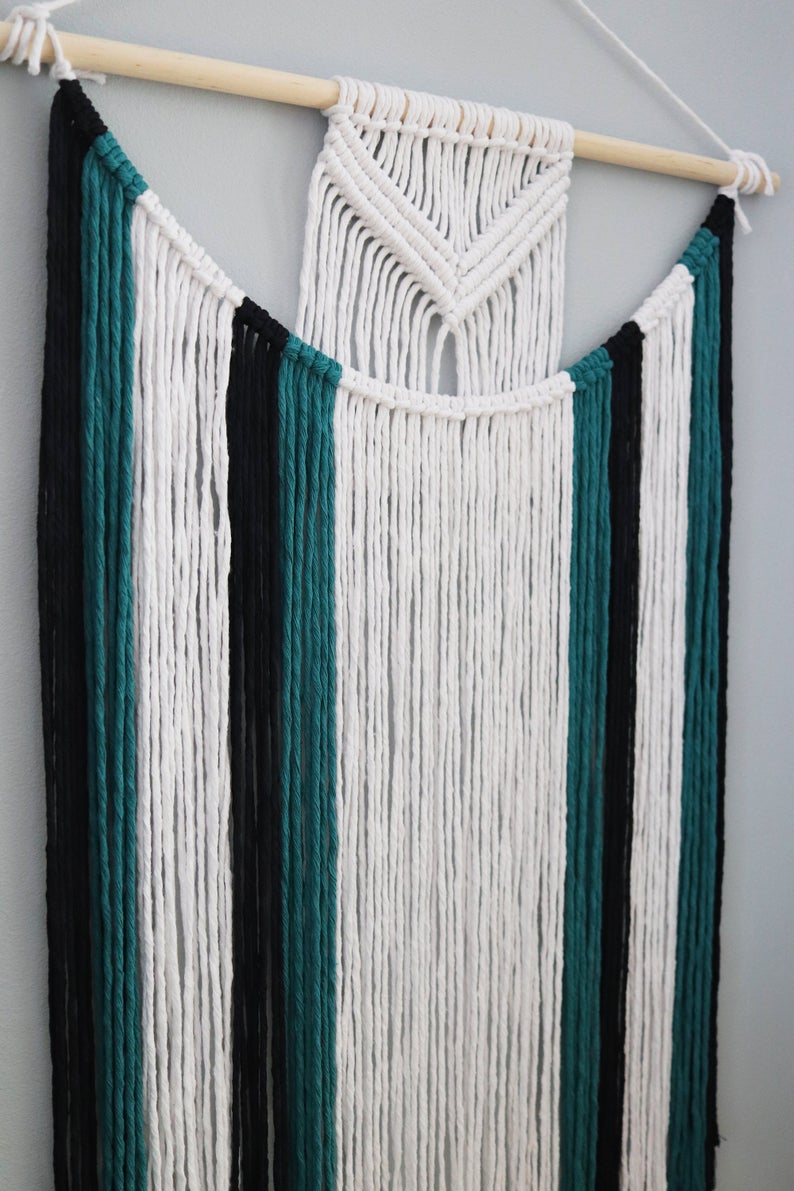 What do you love about your job?
I love everything about it, I love waking up in the morning and knowing I get to make pretty things all day for people. I love the rhythm of the rope moving through my fingers because it's so relaxing. I love my customers and forming a connection with them with the pieces I make for them. I love the feeling of completing a wall hanging knowing that someone's life will be made a little better just by them owning it.
I also love promoting my products and showing the world what I've done, it gives me a really great sense of joy and purpose. I just love everything about it and it changed my life.
What's the best career decision you've ever made?
It was turning down an extension at work to take on my business full-time, hands down. It was quite scary at the time, but it was definitely the right thing to do.
What's the worst career decision you've ever made?
It was swapping to a different department whilst I was working at the BBC, my previous job I had there was very creative and fun but I had moved to a department that had a completely different way of working and it just wasn't worth it. But, it led me to what I do now, so I can't complain!
How do you organise your time?
I like to start off my mornings posting on my social media and answering my emails with a big cup of coffee. I then start on my orders and this continues throughout most of my day, sometimes my big wall hangings take all day, so I will know how the day is going to go dependent on the orders I have.
If I have a quieter day I tend to focus on new designs, although I haven't had one of those in a good while! I usually do a post office run at around 4pm when I get all my orders done. I try to finish for half five, but this completely depends on my orders. I like to try and balance my life so I'm giving myself a proper working week rather than overdoing everything. At the end of the day, I still want to have a life and still enjoy my job, so splitting up my time is now very important to me.
FANTASTIC FEMALE – ELEANOR CHURCHILL FOUNDER OF ELLAMÉ DESIGNS
What do you think is your greatest strength?
It's definitely my drive and ambition. I'm also a good listener and I love to know about people.
What do you think is your greatest weakness?
I overthink things so much! Sometimes it's a good thing, but it's not the best thing to overthink things, it only leads to getting your head a bit tangled!
How do you make decisions?
It depends on what it is, but I usually make decisions very quickly with a lot of thought, if that makes sense! I will think about something a lot before I act on it, but I tend to move quickly and get things moving because I get excited about ideas and don't like them to go to waste.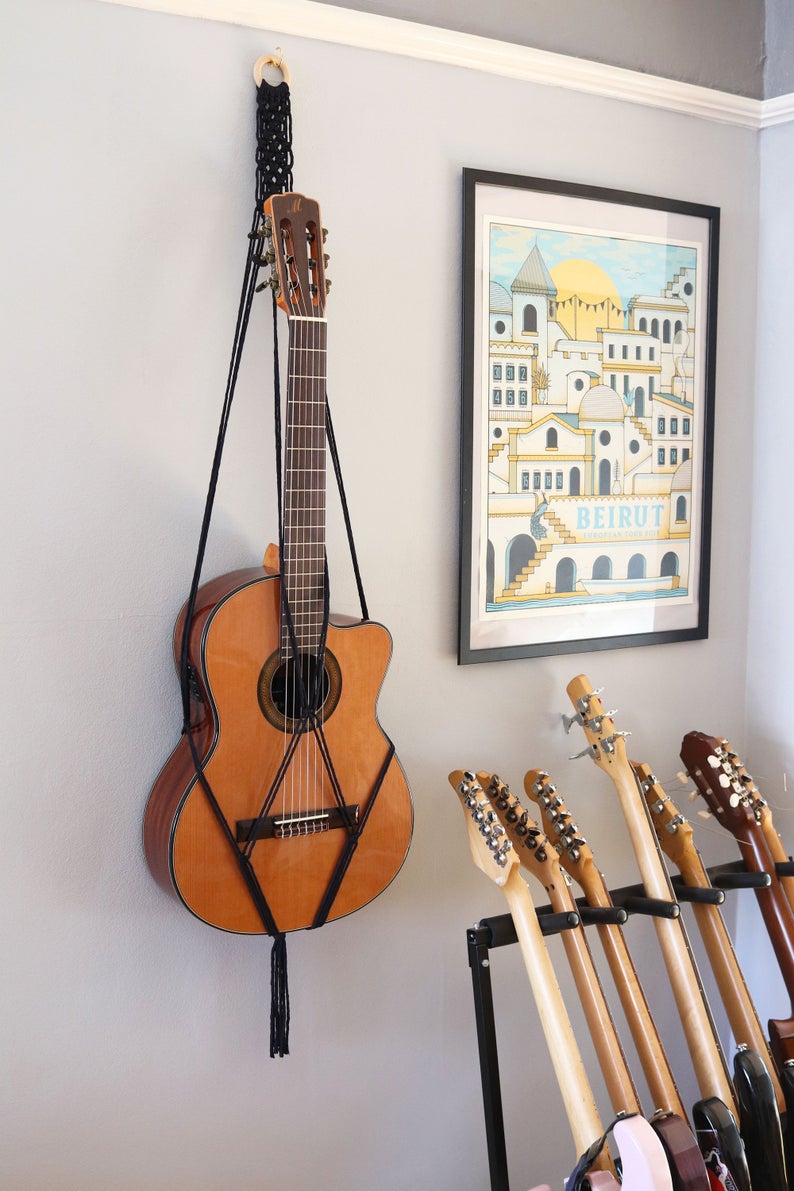 FANTASTIC FEMALE – ELEANOR CHURCHILL FOUNDER OF ELLAMÉ DESIGNS
What do you read?
At the moment I'm reading 'Calm' by Fearne Cotton. I've read both her other books 'Happy' and 'Quiet' and I just love how honest they are. Most celebrities put on a bit of a pretense, but you don't really get that with Fearne Cotton. It has also helped me see that even people who have high profile jobs have had anxiety like I have sometimes. I've also just finished reading a great book by Seth Godin called 'This is Marketing'. It's a really great insight into marketing and how to see your relationship with customers and promotion.
What do you think are the secrets behind getting to where you've got to?
It's pure passion really, I love what I do. Before I started this business, I was doing it as a hobby, because I loved it. Which is exactly why I play the drums (I'm in a band called China Moon Instagram @chinamoonmusic). It's a mixture of passion, wanting to do it all the time and just having drive really. If you have both of those things, you're going to be fine.
Ellamé Designs www.ellamedesigns.com/
Social media @ellamedesigns
Instagram, Facebook, Pinterest, Twitter
More Fantastic Females here