Fantastic Female – Elspeth Fawcett founder/inventor of Yummikeys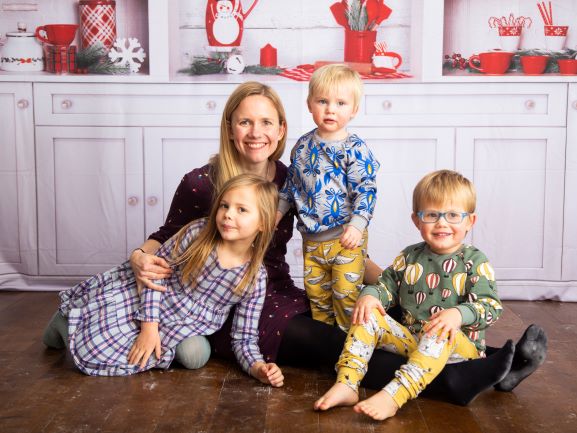 I started designing and producing baby toys while I was on maternity leave with our second child. My husband had managed to drop our car keys down a drain in Pisa airport, never to be seen again – keys not husband, although at the time……..
A few weeks later, back home in Scotland, the remaining set with house keys on the same fob, mysteriously vanished, resulting in a house turned upside down and some costly replacements. The chief suspect was Hamish, then 8 months old, who was fixated with shiny, jingly keys, just as his sister had been.
I knew it wasn't safe to let babies play with keys as they can contain lead, carry an impaction risk into the soft palate and are often quite dirty, but Hamish must have got hold of them, perhaps with some aiding and abetting from big sister Rebecca. As he is also an apprentice postman the pedal bin was their most likely destination.
I tried to channel Hamish's key love into the plastic keys aimed at his age range, but like his sister had previously done, he soon lost interest in them. I tried to find metal toy keys and discovered that there were none available on the UK market – and so the seed was sown – design my own and Yummikeys was born. These were the first stainless steel and silicone baby toys designed globally and also the first stainless steel teething rings worldwide and all designs have been protected. 
tainless steel is safe for cutlery which is in and out of our mouths from cradle to grave. So I knew it would be a safe material to use for babies.
My mother, who has worked in early education all her life, has frequently complained about the predictable monotony of mainstream toys – the same colour palette, texture, density, smell and noise. She has encouraged me in my enterprise to create something different.
How did you balance being a mother and professional? 
I'm still not entirely sure I do! Every day is different, and I've learnt to be pretty flexible with when and where I work, as many days with young children don't quite go to plan. I have some chunks of childcare where I can reliably work but the rest is fitted around my husband having the children and family life, with me working most evenings when the children are in bed.
Who inspired you and why?
I was fortunate enough to have the lovely ladies behind the Edinburgh based tights company, Snag, as our neighbours and good friends 10 years ago and they've been the greatest inspiration for making me realise I could bring a product to market and successfully run a business. They have a phenomenally positive, can-do attitude, and they made me believe I could have the future I wanted, where I worked in a way that I wanted to, in a role that I adored.
What advice would you give to young women who want to succeed in the workplace?
Give opinions, bring energy and drive. Don't be afraid to be yourself and to fully bring yourself to your workplace.
Do you think women feel intimidated in business?
I think so – I know I certainly did. There's a real perception of entrepreneurs as young, very confident men I think, but rarely women, and almost never women with children. I feel aware at some events that they are incredibly male dominated, but I also think that this doesn't reflect the wave of new online businesses who have launched in the last few years; those who have a different business model and way of operating.
Where will we find you on a Saturday morning at 10 a.m.?
You'd find me on a family walk with my 2, 4 and 6 year olds, husband and dog, through our local fields. Bliss.
What do you love about your job?
I love that I can design products that make a real difference to mums and to babies. It's incredible and feels quite magical than I can have an idea and a few months later it can be a real product. I have so many more products I'm itching to get designing!
What's the best career decision you've ever made?
To follow my dreams and leave my role of 9 years to set up Yummikeys. It was a gamble, but it's been the best thing I ever did.
What's the worst career decision you've ever made?
To not follow my heart when I left university. I desperately wanted to work with people and/or animals, but instead made the sensible decision to study further, which although has paid off ultimately, I didn't enjoy my career for a long time – really until I set up Yummikeys. I feel it's so important to follow your dreams and I was scared to follow mine at that point.
How do you organise your time?
Pretty flexibly and mostly via trello and the calendar on my phone! I use trello boards for my team too and whats app groups and it works so easily.
What do you think is your greatest strength?
I learn from others and am constantly asking questions of people I meet with bigger businesses and more experience.
What do you think is your greatest weakness?
At the moment time! I have a young family and I want to spend a good amount of my time with them first and foremost, so that does limit the hours I can work on Yummikeys. It also limits the amount of free time I have as I end up working through almost all of it.
How do you make decisions?
I make decisions fast and with my heart and gut instincts most of the time; although I do love to have a sounding board in a team member, or my husband, if I'm not sure. I do consciously try to slow myself down and leave time to reflect on my initial feelings before I go back if possible, but I rarely change my mind from my original decision.
What do you read?
Mostly sci-fi novels. I love a bit of escapism, especially in these strange covid-19 times.
What do you think are the secrets behind getting to where you've got to?
I've worked harder than I've ever worked on anything in my life, harder than on my degree or becoming a chartered accountant. For two years, aside from my family, Yummikeys came before pretty much everything else in my life and I worked 7 days a week, every week of the year whilst not being able to pay myself a penny. So, I think hard work, determination and a bit of blind faith too! 
Find more Fantastic Females HERE