Fantastic Female – Rina Einy Founder of Culthread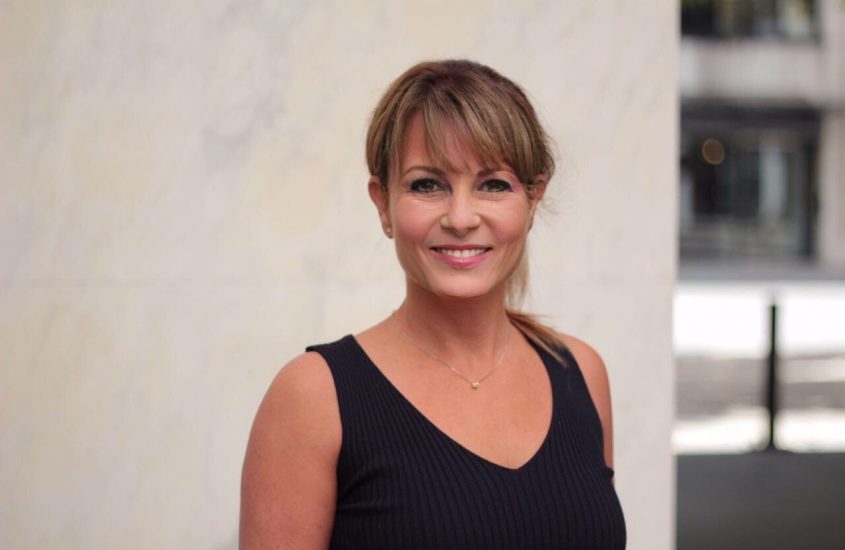 Rina Einy is the founder of Culthread ™, a vegan, sustainable brand of quality women's outerwear.
"I founded Culthread because, despite being in the outerwear business, I searched in vain for the perfect coat – one that not only looked amazing, fit just right, and had all the
necessary functionality, but a coat that was in sync with my values. Culthreads are guaranteed cruelty free and vegan; we use 100% recycled fabric whenever possible, and our soft, warm insulation is made from Thermore ® 100% post-consumer recycled plastic."
Rina has been involved in the outerwear business for over a decade as Managing Director of design and manufacturing company, Textyle; she has had a number of previous careers, in professional tennis, trading in an investment bank, and several years as a full-time mum!
She has remained a strong believer in both equality and women's empowerment, and was a Trustee at Dress for Success
London, a charity that helps underprivileged women enter the job market for three years. Rina remains involved with the charity and regularly donates women's outerwear.
Rina is currently studying part-time for a Doctorate in Business Administration and has captained the England Masters Squash team.
How did you balance being a mother and professional?
When the children were young, I was a full-time mum. They both turned out to be highly independent at a young age, so the transition when I went back to work full-time, went smoothly. Both of them chose to go to boarding school when they were teenagers and haven't been back home for any length of time since (beside during Covid19, when my son spent two months in lockdown at home!).
What have you sacrificed (both personally and professionally) at each stage of your career?
Having had several completely separate careers over the decades, there have evidently been sacrifices along the way. Playing on the WTA tennis tour as a teenager meant that not only did I miss several years of schooling, but I didn't have any friends outside of the tennis world. My tennis 'friends' were also the competition. I remember my tennis touring career as an incredible, but lonely, experience.
At 19, having decided that I needed to move on with my life, I did a string of O (GCSE) and A level exams before attending the LSE and studying economics; this was my 5-year path to a career in investment banking. Moving to Brussels for my family effectively put an end to that, but I did manage to be a full-time mum to my children when they were young; an investment banking career at that time together with babies would have been tricky.
More recently I have been able to mould my career in my own way and I am fortunate to be able to do so without significant sacrifice.
Who inspired you and why?
It would have to be the notorious RBG; lawyer, US Supreme Court dissenter, gender and equality warrior, who is still fighting for social justice aged 87.
What advice would you give to young women who want to succeed in the workplace?
Seek out mentors, or women you can open up to, and listen to their advice
Educate yourself whenever you can – it will boost your confidence
Do not dwell on weaknesses, but focus on strengths
Do you think women feel intimidated in business?
I think that certain business environments are intimidating for minority groups, and unfortunately women are a minority group in many industries, especially at management and board level. This is not about women feeling intimidated but organisational structures that persistently intimidate 'others'. Women are more likely to have 'imposter syndrome' than men; we are socialised from a young age into being less assertive, more risk averse, and less self-promoting; all things that are valued highly in businesses run by men for men.
Where will we find you on a Saturday morning at 10 a.m.?
At the local market stocking up on vegetables and fruit.
What do you love about your job?
At Culthread we are a woman centric brand, and I am surrounded by a team of creative and professional women who I cannot manage without! As founder, I love the concurrent challenges of creativity (despite being analytical at heart), of having a big-picture mentality (whilst sweating over the details) and trying to see through different lenses (despite having only mine to fall back on).
What's the best career decision you've ever made?
Founding my sustainable outerwear and lifestyle brand, Culthread. Being in the fashion industry, and having access to the latest branded outerwear, didn't solve my problem of finding the right coat to wear – one that was stylish, practical and in line with my values. Culthread is a brand for the modern woman, with quality, limited edition pieces that are gorgeous, practical and kind to the planet, its people and animals.
What's the worst career decision you've ever made?
Leaving JPMorgan London for Brussels. Whilst that was clearly a bad career decision, it was either that or not marrying my partner (who was unable to move to London at the time). So disastrous for my career but wonderful for my life with my partner and two children.
How do you organise your time?
I am a goal orientated person and work well with deadlines, so I prioritise and impose these when I can. I struggle to be productive after 6pm, and I love to play sport at lunchtime if at all possible, so I organise my time around those constraints! I work on the weekend or on holiday if necessary.
What do you think is your greatest strength?
I am impatient and demanding of myself and others.
What do you think is your greatest weakness?
I am impatient and demanding of myself and others.
How do you make decisions?
There are decisions and DECISIONS….the former are generally 'system 1' or fast decisions which are instinctive and tend to be emotional – I am not a procrastinator and generally trust my accumulated knowledge and gut reaction. The latter are the BIG decisions, and I am very 'system 2' about these – I research, deliberate, reflect and think hard about the knowns and possible unknowns before I make them, usually alone.
What do you read?
I have always adored reading – it got so bad that my family refused to enter a bookshop with me! Then I got my Kindle J. I am currently reading Rodham: What if Hillary hadn't married Bill? (Curtis Sittenfeld). Some of the best books I've read or re-read recently are: How Not To Die (Michael Greger), Invisible Women (Caroline Criado Perez), We Should All Be Feminists (Chimamanda Ngozi Adichie), The Second Sex (Simone de Beauvoir), Rebel Ideas (Mathew Syed), Why I'm No Longer Talking to White People About Race (Reni Eddo-Lodge), Americanah (Chimamanda Ngozi Adichie)…… I could go on and on …
What do you think are the secrets behind getting to where you've got to?
Throughout my life I have relied on a strong work ethic and a large quantity of determination. I have been fortunate, of course, but we have to all try hard to make our own luck as well. There is a great Ted Talk on this subject by Tina Seelig called "The little risks you can take to increase your luck". I think that confidence in my own ability has helped propel me onwards in difficult times and allowed to me tough decisions when they were necessary.
Culthread founder, Rina Einy. www.culthread.com
Fine more Fantastic Females HERE