Fantastic Females – Lorraine Lewis founder of The Lewis Foundation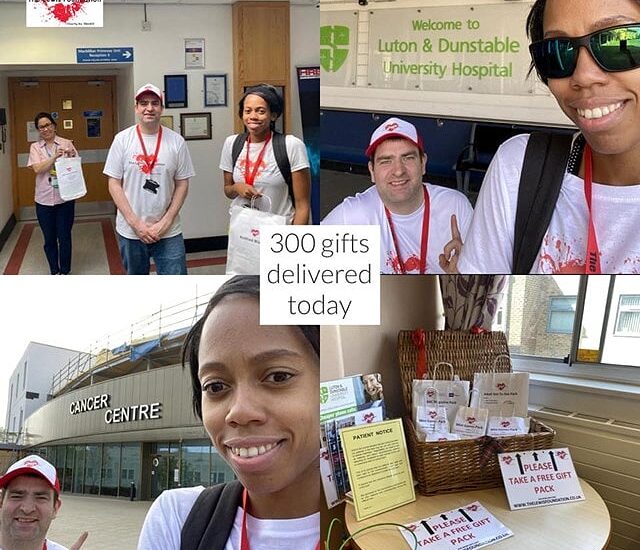 Lorraine Lewis is co-founder of award-winning charity, The Lewis Foundation and has recently received a British Citizens Award at the Houses of Parliament for her services to Healthcare. Lorraine set up The Lewis Foundation with her husband Lee in 2016 after identifying from their own personal experiences how adult going through cancer treatment could be supported by providing not only a gift but also gifting their time. Lorraine has been part of growing the charity from providing 80 gifts at their local Northampton hospital in 2016, to now supporting 7 hospitals in the Midlands.
Last year alone, the charity gave 24800 in one year for free to support adult cancer patients. The Lewis Foundation has won 14 awards (locally and nationally) and has been covered in publications such as the Huffington Post and The Sun. Lorraine was recently featured in The Sun newspaper print and online as one of the Lockdown heroes of the coronavirus. When Lorraine is not doing the charity work, her day job is a Lawyer for the Crown Prosecution Service, London. She has been practicing Criminal Law for 12 years, with her area of interest being Youth Law.
About us and why we started
At The Lewis Foundation we source, package and hand deliver gift packs for free to adult cancer patients in hospitals in the East Midlands and the community weekly. These are items that patients might find difficult to buy themselves or simply cannot afford – and that brings people happiness and comfort at a difficult time. For many people in hospital and the community, our volunteers are their only regular visitors.

Lorraine and Lee (charity founders) were so moved when Lee's mum was hospitalised with cancer at Northampton General Hospital that it led them to set up a charity. Recognising the fear, upset and loneliness faced by individuals undergoing cancer treatment and their loved ones, they were determined that their charity would make a real difference. They sourced donations, packaged, and delivered gifts for patients on oncology wards. That was April 2016 – when The Lewis Foundation was born. Today with a team of 50 community volunteers (70% being their beneficiaries) and community supporters, The Lewis Foundation has grown from delivering 80 gift packs to one hospital, to delivering over 2,500 to seven hospitals in the Midlands per month. They are Milton Keynes University Hospital, Northampton General Hospital, BMI Three Shires – Northampton, Bedford Hospital, Leicester Royal Infirmary, Luton & Dunstable Hospital and Kettering Hospital.

How it works in the hospital, is that patients pick a gift pack of their choice from our gift trolley and there are 32 different packs to pick from. Packs range from toiletries, puzzle books and miniature radios. Once the gift is received, we then spend time with people to reduce loneliness.
Our charity since the coronavirus pandemic.
Adults are having to go through cancer treatment alone during this challenging period of self-distancing, and that's why it's more important than ever for us to continue to deliver our free gifts and support packs to patients in hospitals and the community.
The whole reason we started The Lewis Foundation four years ago was because we wanted to make a real difference. It can be a sad, frightening, and lonely experience for individuals undergoing cancer treatment, especially during this pandemic when their loved ones can't be with them.

We have been overwhelmed by the support and donations still being made to us and are delighted that we have been able to continue our services against all the odds. Local businesses and supermarkets have been even more supportive than ever during this time, contributing items for our gift bags as well as making monetary donations which is incredible – especially when their stores have been stripped of essentials recently.
Like all charities, we have had to adapt our processes. We can't use our warehouse now, so our own home has become a temporary stockroom piled high with donations. We can no longer host our weekly packing sessions, so a small number of volunteers now pack gift bags in their own homes which are then collected to be delivered. We've also created alternative drop off points to minimise social contact and have been working very closely with all our hospitals to adjust the way we deliver the support packs to the wards. The hospital staff now kindly hand them out for us and we have been giving them care packages to for the amazing work they do.
We have also been making up emergency packs for cancer patients who are self-isolating in the community, which we have never done before.

We have received lots of messages from people during the Covid-19 outbreak – here are a few:
"Can I thank you so much for my gift. You are so kind and thoughtful. I have got such dry skin at the moment and the Aveeno spray and body wash (which I have run out of), has made my skin feel normal again. My skin was so sore because I was using soap. I have already started using the colouring book. It is so lovely to have something else to do besides watching TV. The gift box of cream and lip balm has made me feel lovely. Thank you again from the bottom of my heart. I have been feeling a bit low this last week and today. You have really made me smile again and cheered me up so much."
"The Lewis Foundation delivered an amazing pack of goodies to my door this evening with items I cannot get out to buy myself. We are so lucky to have such lovely people in this world."
"My dad had to undergo his chemo treatment alone today but luckily the gift bag he received from The Lewis Foundation included puzzle books. Thank you so much for giving him much-needed distraction."
Lorraine Lewis BCAh Co- Founder & CEO – The Lewis Foundation
For more information about what we do, visit: www.thelewisfoundation.co.uk
Winners of:
British Citizen Award 2020 for services to Healthcare
National New Business Awards – Charity Of The Year 2019
Small Charity, Big Impact – East Midlands Charity Award 2019
Northamptonshire Community Foundation – Brilliant Group Award 2019
Northamptonshire Pride Award "Community Group of The Year" 2017 and 2018
Northampton – Heart of The Community Award 2018
SME Northamptonshire Business Awards – Not for Profit of The Year 2018
Northamptonshire Business Awards – Not For Profit – Charity of The Year 2018
More fantastic females here