Fat-Free Dal Tadka Recipe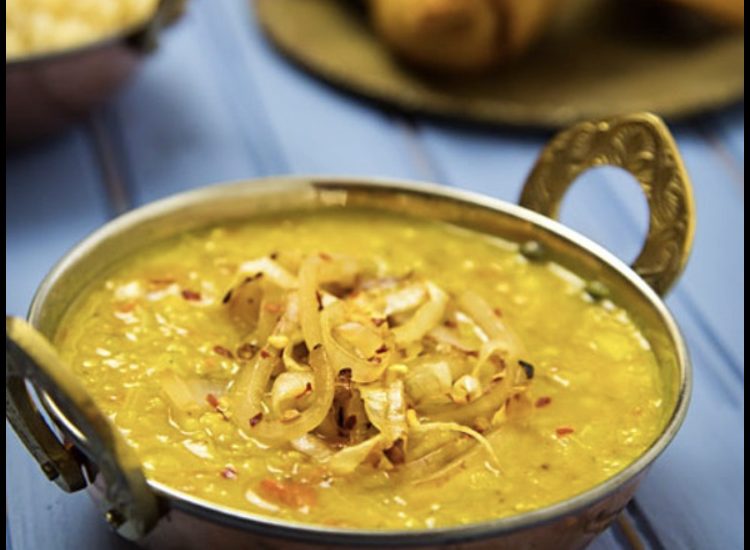 FAT-FREE DAL TADKA RECIPE
Creamy red and yellow lentils are delicately seasoned and topped with browned onions and hot chile pepper in this fat-free version of the classic Indian dish.
I found this recipe recently and I love it, the kids also love it and when I make it I NEVER have any leftovers.
This recipe is by Susan Voisin and can be found on her site –https://blog.fatfreevegan.com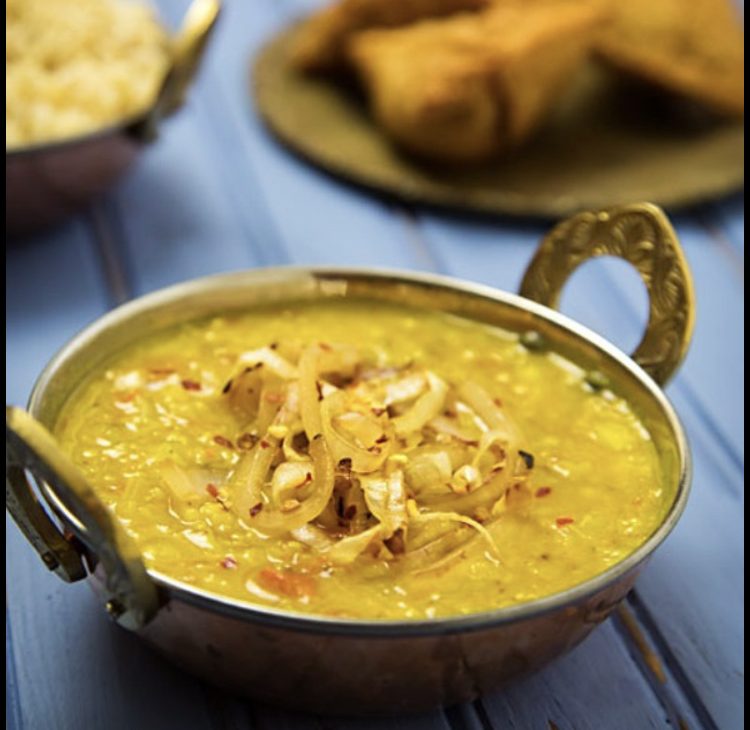 Fat-Free Dal Tadka
All of the heat is in the onion topping, so if you'd like your dal spicier, add as much red pepper as you like while the lentils are cooking.

Prep Time – 10 minutes Cook Time – 25 minutes Total Time – 35 minutes Servings6

Ingredients
1/2 cup split red lentils (masoor dal)
1/2 cup yellow moong dal (split mung beans) OR yellow split peas OR additional red lentils
3 cups water
1 large tomato chopped
1/2 large onion chopped, set aside other half
3 cloves garlic minced1 teaspoon ginger root minced
1 teaspoon cumin seeds
1/2 teaspoon turmeric
1/2 teaspoon salt if desired
1/2 teaspoon garam masala plus more to taste
1/2 large onion sliced
1/2 teaspoon red pepper flakes or to taste
Instructions

FAT-FREE DAL TADKA RECIPE
Put the lentils, water, and next 7 ingredients (through salt) into a pressure cooker and lock the lid. (See Notes below for regular stovetop cooking.)
Cook at high pressure for 10 minutes (on the Instant Pot, select manual and change the time to 10 minutes).
Allow pressure to drop naturally for 10 minutes and then do a quick-release.
Open lid carefully and check to make sure lentils are tender.
If not, continue to cook without pressure until lentils are fully cooked.
Add garam masala and stir vigorously to make the lentils creamy.
It should be a medium consistency, so add a little water if it's too thick.
Keep warm.While the lentils are cooking, heat a small non-stick skillet.
Add the onions and cook, stirring often, until they begin to brown.
Add the red pepper flakes and cook until onions are softened and touched with brown.
Check the seasoning of the lentils and add additional salt and garam masala to taste.
Serve over rice and top each serving with the browned onions.
Notes
If cooking without a pressure cooker, bring ingredients red lentils through salt to a boil in a large, heavy saucepan, reduce heat to low, and cover. Cook until lentils are soft, stirring often and adding water if they start to get too dry. Different types of dal take different amounts of time, so allow at least 30 minutes. Proceed with the final three steps.
FAT-FREE DAL TADKA RECIPE

Click here to find some other family favourites – HERE