German Doner Kebab Edinburgh – Review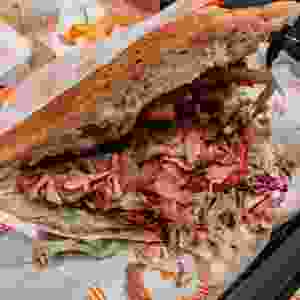 The long-awaited gourmet kebab restaurant, German Doner Kebab finally opened its doors in Edinburgh (18th November 2019) and we were lucky enough to be invited along to see if it was worth the hype.

German Doner kebab first opened in Berlin in 1989, the kebab joint has gone from strength to strength and now has over 70 restaurants across the world. This is the 3rd to open in Scotland with one in Glasgow and Dundee.

My husband loves a kebab, me not so much but when I got the invite I thought he would be the best person to be the judge.

We arrived at 2pm on a Thursday afternoon and the place was packed, with lots waiting for takeaways which I took as a good sign. The place does resemble a more "higher class" kebab shop – it was very clean, and I liked the minimal styling. The kitchen is exposed just like at your local chippie and we could see the many staff working away like buzzy bees.

We were seen very quickly, no waiting around here and we were taken to the seating area at the side. This again reminded me of one of those late-night cafes where you see the ravers tucking into their cheese and chip but obviously cleaner and more stylish. The booths are cosy, and I would see this place as a quick meal option rather than a leisurely meal-time place.

With lots to offer, meals such as the original German doner kebab, doner quesadillas and doner burgers only cost up to 7.99

We had a look at the menu and there was so much to chose from and since I hadn't really had a kebab before the wonderful owner Mark send us a bit of all the best bits to try.
The classic mixed kebab, doner nachos, doner chessy chips and some spring rolls arrived at our table as and when each one was ready – this helped with the eyes bigger than our belly moments, but we still had so much food on the table at one point we couldn't see the table below.

So how did it taste, my husband loved it! Me? Well it was the Best kebab I have ever eaten but I haven't eaten a kebab before. It was drier than I thought it would be which I liked, it wasn't greasy, and the side sauces were perfect if a little dilly for me but that is a classic German flavour, so I shouldn't have been surprised. My favourite was the cheesy doner chips and the doner nachos – they were LOADED with all the good stuff and I found myself filling up on them with not much room left to try the rest. We did take what we didn't eat home (no waste in our home) and I can confirm it tasted just as good later on heated up in the microwave.

Now they also had Tango ice blasts!!! You know, like the ones you get at the cinema and you wouldn't have thought it, but they really are the perfect accompaniment for a kebab. The blast they gave us was a mix of two I think, and it took me back to my teen years and it made my tongue a lovely cherry red.

We were in and out within an hour, the food was fast, hot and tasty and perfect for a pre-cinema date or belly filler before/or after some drinks. My husband left saying he was now a "life long customer" and as it was so cheap he would be eating there every day if his office was closer – see, I told you he loves a kebab.

So tell me, Kebab? Yeh? Or Nah?