How Yummikeys is taking on the throw-away world of kids' toys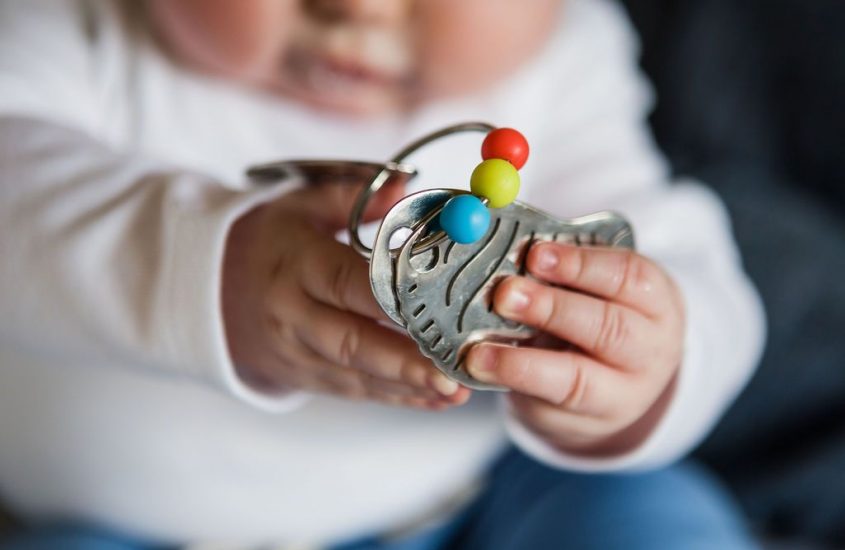 Plastic is NOT fantastic according to Yummikeys, an eco-friendly baby toy brand that is saying "no" to single-use materials. With over 90% of toys ending up in landfill, founder Elspeth Fawcett's mission was to make a toy that was not only un-put-downable for baby, but also a treasured keepsake for parents; a family heirloom to be loved from generation to
generation.

Reminiscent of a simpler time, Yummikeys are sleek and uncomplicated toys, cherished for their tactile features, synonymous with real keys – shiny, cool and jingly, but without the dirt, rust and lead. Comprised of only cutlery grade stainless steel and silicone beads, Yummikeys do not incorporate plastic or batteries, meaning no long-lasting effects on the
earth. No toxic battery leaching, no thousand-plus year decomposition period. Instead, although Yummikeys will last forever, they are completely recyclable, as well as being made from recycled material; stainless-steel itself is made of roughly 70% recycled steel.

Long-lasting and long-loved were important ideals when launching the brand. Elspeth's aim was to create a set of toy keys that would have all the tangible aspects of real keys, but none of the negatives such as batteries. Although wood was naturally a great choice for its recyclable aspects, it wasn't holding the fascination of a real shiny set. Stainless steel was instead chosen, not only for its sensory attributes, but also because of its green credentials.

Like glass, stainless steel can be recycled and reformed without losing any of its quality and
wont rust or degrade over time. "Sustainability and lack of waste is, and always has been a key driver in my business. I did not set out to sell cheap, throwaway baby toys, in fact, I wanted my toys to be the exact opposite. I want them to be a keepsake, heirloom and investment that is treasured and something that our customers' successive children and one day grandchildren, would play with."
So, where are Yummikeys made? China. For some a worry, but for Elspeth a challenge that can have a positive outcome. "There are absolutely no stainless-steel factories here in the UK; we searched high and low and it was just impossible to make them any closer to home.

With China being the only option, we are doing everything we can to lower the brand's carbon footprint, including shipping the keys instead of flying and having recyclable packaging. We are also in the process of calculating the carbon footprint per set of Yummikeys and once we have that figure, there is a plan to begin off-setting it.
In the meantime, the team helps on local litter-picks and donates to charities that remove waste from the sea and other natural sites. At the end of the day, Yummikeys are for our children, we don't want the purchase of them to be a strain on the future those children grow up in."

With a 400% increase in sales YoY from 2018 to 2019 – seemingly proof that parents are keen to lower the single use plastic in their children's lives and make more considered purchases – Elspeth is delving even deeper into ideas of how to make the business more
cyclical and more sustainable for all involved. Swap shops and recycling schemes are in the brand's sights for this next period and all packaging will soon be 100% recyclable, with the plastic hygiene window being redesigned. So, why make all these changes?
Well, sustainability is the KEY to success after all…
Available here – https://www.yummikeys.com/