Just 13 Great Workout Channels On YouTube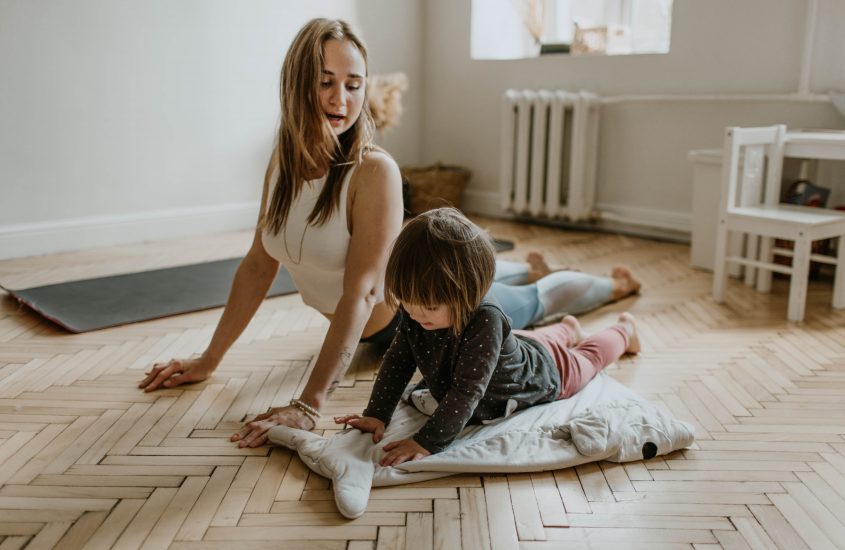 JUST 13 GREAT WORKOUT CHANNELS ON YOUTUBE
1. Fitness Blender offers hundreds of no-frills, no-fuss workouts so you can ~hiit~ the ground running.
Run by husband-and-wife team Daniel and Kelli, Fitness Blender is a simple yet great channel. All of their videos are filmed with a white background so you can actually focus on what they're doing. They have more than 600 full-length workout videos, and more than 150 of those are HIIT (High Intensity Interval Training) to get your body moving and blood pumping. All workouts range from 5- to 45-minutes. While some videos require some basic equipment, many can be done with your body weight alone.
Popular Videos:10-Minute Abs Workout, 32 Minute Home Cardio Workout with No Equipment
2. Blogilates brings a fun attitude to Pilates-style workouts for people of all levels.
Casey Ho has been creating videos on Youtube for over 10 years and now has almost five million subscribers. She teaches POP Pilates, PIIT28, Bootcamp sculpting into one seamless workout. Many workouts don't require any equipment (just a mat mostly). She also has different workout programs you can follow, including apartment-friendly ones (for all the people who don't want to disturb their neighbors right now) or ones for trying celebrity workout routines.
Popular Videos:POP Pilates for Beginners, Quick Burn Arms!
3. Yoga With Adrienne is a little calm corner of the internet with yoga videos focusing on both physical and mental health.
I discovered Yoga With Adrienne back in college. It was a great way to really start my yoga practice and work on yoga basics. Since then, I've turned to her videos for a variety of different reasons. She has such a calming voice and has yoga videos for different levels, lengths, or how you're feeling (such as experiencing stress, back pain, or cramps).
Popular Videos:Yoga For Complete Beginners, Yoga For Anxiety And Stress
4. MadFit creates workout routines to popular songs to really take your fitness routine up a ~notch~.
Maddie Lymburner has hundreds of workouts on her channel. The most popular among them are the workout routines she creates to popular songs, including those by Justin Bieber, BTS, Lady Gaga and more. But she also has other longer workouts, plus ones that target body parts, specific no-equipment workouts and apartment-friendly workouts (these workouts are also great for anyone with injuries or who just needs low-impact workout options).
Popular Workouts:Billie Eilish – bad guy Full Body Workout Routine; 10 Min Lower Ab Workout
5. The Fitness Marshall brings you choreography to turn your workout into a dance party. Now doesn't that sound like a blast?
Caleb Marshall will turn your living room into a dance party with pop music and moves designed to get you sweating. Each video is one song long, but he suggests creating a playlist of two warm-up videos, eight main workout videos, and one cool down video for a complete workout. But there's also a full workout playlist and a quick workout playlist you can follow. Plus, he has a playlist of dances specifically for kids. You can turn the lights down and the music up to make it feel even more like you're in a club.
Popular vidoes:Meghan Trainor – Me Too; Sia – Cheap Thrills
6. The Body Coach can be your own personal trainer for the whole family with intense challenges for you and P.E. classes for your little ones.
The Body Coach (aka Joe Wicks) believes that everyone should be able to work out, no matter their fitness level or budget. The channel has more than 250 videos, including challenges, time-based workouts, and workouts for specific body types. There's a new HIIT workout every week. One of the coolest parts of the channel is that it also has workout for kids, including a daily P.E. class that might be very helpful for any parents who have basically started homeschooling their kids.
Popular Videos:HIIT Home Workout For Beginners, P.E. with Joe
7. Tone It Up transports you to the beach so you can ~seas~ your workout and not feel like you're stuck in the same four walls all the time.
Tone it Up is run by trainers Karena and Katrina who first started posting workout videos on Youtube over 10 years ago. Their brand has grown, but they still stay true to their roots and post free versions of their workouts on their page. You'll find plenty of total body workouts, bodyweight workouts, guided meditations, and more. The videos are on the shorter side, with the newer videos directing you to their app if you want longer videos (right now, the app is free until April 22). If you're looking for more, you can string a couple of their Youtube workout videos together for a longer workout.
Popular Videos:Total Body Tone Up; Bikini Arms
And if you're interested in fitness apps, you can check out these 14 great apps to help you work out at home.
8. Popsugar Fitness will turn your home into a fitness studio with both fitness and dance classes you'll love.
Filmed in a fitness studio with at least three people, the channels feels a bit like an old-school '80s workout video, without the signature fashion and hair of course…but it does bring that fun group attitude right to you. The channel has different categories: beginners, HIIT, dance cardio, plus workouts targeted at different body parts. You can also choose a class based on length (10 minutes, etc.) Plus, they have a section full of no equipment cardio workouts so you can get your heart rate up without leaving the house.
Popular Videos:30 Minute Hip Hop Tabata, The Best 15 Minute Beginner Workout
JUST 13 GREAT WORKOUT CHANNELS ON YOUTUBE
9. Alo Yoga might be most well known for its clothing line, but the channel brings together many different instructors (and styles) for a well-rounded workout style.
While they are known for yoga (because of the name), they have other types of classes as well, including HIIT workouts, meditation, and yoga and meditation for kids. There are also yoga challenges you can try and also helpful how-to videos if you're really not exactly sure how to do a crow or crane pose.
Popular videos:30-Minute Power Vinyasa Flow with Briohny Smyth, Yoga For Kids with Alissa Kepas
10. HASFit believes that everyone should be able to work out, so they have more than 1,000 full-length workouts so you can find one that works for you.
Coach Kozak and Claudia are on a mission to bring people free at-home workouts that really work. Their page is filled with more than 1,000 choices, which might be overwhelming for some. But they break them up easily with playlists, such as beginner workouts, workouts by body part, or even prenatal workouts. Many workouts do require some equipment, like dumbells or a resistance band.
Popular videos:BEST 30 Minute Cardio Kickboxing Workout; 30 Minute Full Body Resistance Band Workout
JUST 13 GREAT WORKOUT CHANNELS ON YOUTUBE
11. Fightmaster Yoga is on a mission to make people feel better with practices that are just about showing up instead of trying to do all the poses perfectly.
This channel is not about being a perfect yogi. The motto of the channel is "It's not about the pose." All Lesley Fightmaster wants from you is to show up and do your best. She has a number of full-length yoga practices for anyone at any level. You can start with the for beginner videos and then work your way up to 30-minute practices, 45-minute hatha practices, and full 1-hour practices. The tone is supportive, comforting, and non-judgemental. Show up and try your best to see what happens.
Popular videos:1-Hour Ashtanga Yoga (intro class); Yoga for Kids
12. Jessica Valant Pilates combines her knowledge of Pilates and physical therapy for a variety of videos that are great for working out or helping with an injury.
Jessica Valant is a licensed physical therapist and certified Pilates instructor for more than 15 years. She brings her knowledge from both of these jobs to her page for a variety of videos that cover both Pilates and movements for different injuries. The videos are 5 to 20 minutes long. You can find workouts for any specific body part or injury. She also has some barre workouts, a playlist about Endometriosis/IVF, and Pregnancy/Prenatal workouts.
Popular Videos:Pilates for Beginners; Knee Pain Exercises
13. Walk at Home by Leslie Sansone offers equipment-free workouts to get you ~moving~ without ever having to go outside.
Leslie Sansone created a walking workout you can do at home. Yep, that's right, you don't have to go outside to get a walk right now. The videos keep you moving the whole time and incorporating some interval training for something anyone can complete without any equipment at all. There are videos based on the length of the workout, the length of the walks, bonus burns, and more.
Popular Videos:1-Mile Happy Walk; 20-Minute Walk at Home Exercise
JUST 13 GREAT WORKOUT CHANNELS ON YOUTUBE