Mini Epic -the Ultimate online Children's Invitation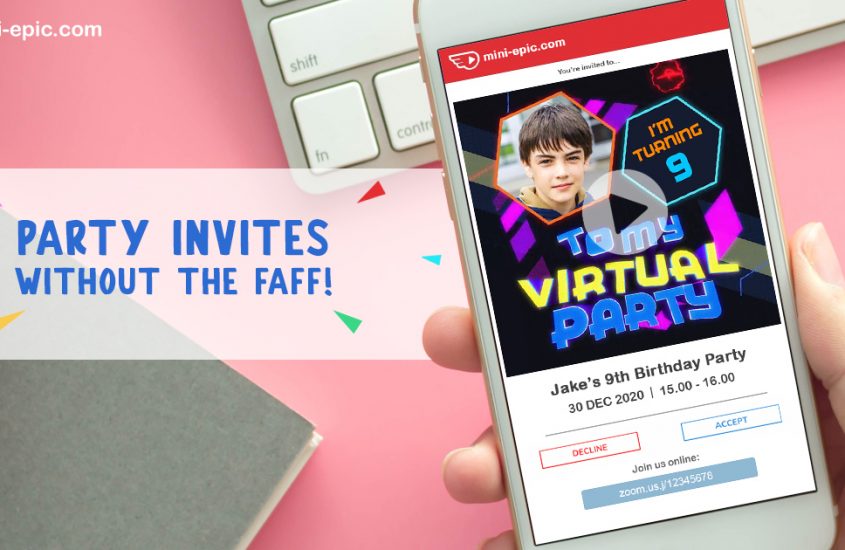 Since the UK went in to lockdown, Mini-Epic.com, home of the ultimate online invitation, has seen a huge surge in demand. From taking moderate sales prior to lockdown, Mini-Epic.com have recorded April to be their most successful month to date.  
Mini-Epic.com is an award-winning online platform where customers can personalise a sensational animated invitation for children's birthday parties, and send it by WhatsApp or email, with rsvp tracking included; short (Mini) animated videos that make a big (Epic) impression.
Created by husband and wife team Jonathan and Ashley Shine five years ago, the initial range of animated invitations was designed for stag and hen parties. Although it was a unique and novel idea at the time, it didn't prove to be as successful as they had hoped. Facing the prospect of having to close the business, Jonathan and Ashley's twin daughters Hannah and Isabella came up with an idea which led to the creation of Mini-Epic.com; they requested an animated invitation for their 5th birthday party.
After creating an invitation for their daughters, word quickly spread and led to them designing a whole range of children's birthday invitations, which is what the Mini-Epic brand is now synonymous for. More than just an invite, Mini-Epic's animated invitations provide a unique and bespoke experience. Hannah and Isabella remain paramount to the design process, giving Mini-Epic.com a window in to their wild imaginations and providing them with inspiration for new themes and designs.
As soon as the UK entered lockdown, Mini-Epic.com experienced an increased demand for paperless invites for virtual parties, from parents wanting to add that special touch to their child's online party. They converted their entire range of standard children's invitations to virtual party designs, allowing customers to include a zoom or hangouts link with their invitation, as opposed to a physical address, and partnered with the UK's number one children's entertainment company Captain Fantastic, providing invitations for their Premium Parties.
"We are extremely excited to be working with Captain Fantastic. Their online parties have literally saved the day for a lot of parents worried about their child's birthday this year, and having adapted our online invitations to cater for these new virtual parties, the timing couldn't have been better! We're delighted to be part of the Captain Fantastic experience!" Jonathan Shine, Co-Founder of Mini-Epic.com
Since doing so, Mini-Epic's sales have increased ten-fold. In March they provided more invitations than they did in the whole of 2019.
Speaking of their partnership, Ricky Fox, Co-Owner of Captain Fantastic said:
"We're super excited to be working with Mini-Epic. Since introducing our Online Parties in March, we have seen a huge increase in demand from parents who are determined to make their children's birthdays extra special while in lockdown. In response to this, alongside our Classic party package, we introduced a Premium package which includes Mini-Epic's animated invitations. Since introducing the Premium package, a majority of our customers have selected the Premium Party over the Classic, as they love being able to send out personalised, themed invitations to their guests. It has been the perfect addition to our Premium party package".
They have made ordering their invitations quick and easy. Customers simply choose a pre-animated design, add the child's name, age and party details, along with a photo of the birthday boy or girl, and within 60 seconds the invitation is ready to share via WhatsApp or by email. Customers creating their invitation on the Mini-Epic website can also collect their friends RSVPs.  Costing just £4.99, during the Covid-19 lockdown Mini-Epic is also donating 20% from each sale to NHS Charities Together.
-Customer Reviews-
"The easiest and coolest way to send an invite" Saskia, Mum of Three
"Simply fantastic!…Saved me a lot of time and effort!" El, Mum of Two
"What a way to make an instant amazing impression!" Olga, Mum of Three
For more information about Mini Epic visit www.mini-epic.com
Facebook – www.facebook.com/theminiepic / Instagram: @mini.epic