More than "Mum": The 2020 exercise that focuses on Healthy Post-Natal Body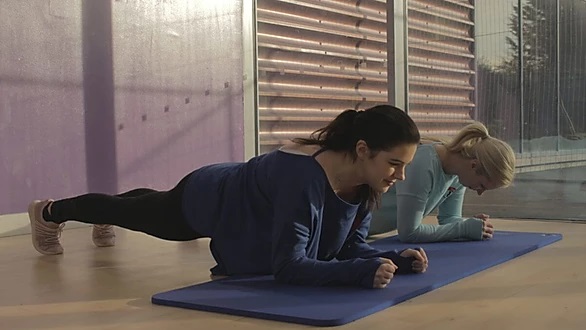 Moving away from the often-harmful discussions around 'bouncing back to pre-baby weight', monthly online subscription service, Healthy Post-Natal Body, instead focuses on the physical health and well-being of women who have given birth. Founder Peter Lap champions the idea that fitness is supposed to be fun as well as healing, but that doesn't mean you need to set the treadmill to Ben Nevis or lift a double decker bus over your head.

Becoming a mum for the first time can be one of the most amazing moments in your life and after 9 months of waiting, you finally get to meet your little one. Giving birth is often the part of pregnancy that everyone dreads, so it is spoken about and explained in almost every pregnancy book you read. What happens to your body in the weeks after pregnancy, however, isn't as openly discussed and it can, therefore, cause panic and worry if something was to feel or look wrong.

If you feel as though you still look pregnant months after you have given birth and you're fed up with your new 'mum tum', don't worry, as you're not alone.
Now, I know what your thinking, "Mumforce had a baby 2 years ago!" Let me tell you my body took 3 years after my first baby to "go back to normal" and then I fell pregnant again.

Pregnancy with my son wreaked my body, my posture, I lost muscle tone and my stomach muscles spilt. I still have a slight divide (Diastasis Recti) between the two but not enough for the doctor to do anything about it so I have been living with a belly button that more or less resembles my HOOHAA. So if your 6 weeks post-natal or like me, a few years on but still feeling the affects that pregnancy had on your body this system could be for you.

Here is what Healthy Post Natal Body is all about according to the website. –

After years of training women in the Edinburgh area, years of writing about Post-Natal Health and years of lamenting the state of physical Post-Natal care and advice given to women. Peter Lap decided to launch this website.

They aim to help women around the world with post-natal exercise plans and advice to help get their health back!

Their experts are on-hand to guide you through the session plans and offer first-hand advice through the forums, also a chance to discuss with other in the same boat.

To be honest, Peter didn't want to do it. He always said he thought this sort of thing should be available through Health Insurance or on the NHS. He has written to various institutions asking them to set it up. But he just couldn't get the "Yes, we'll get it done" from others so he decided to do it himself. He even had to build the website himself!
HPNB is different from some other "systems" you might have come across.

This is not some 12 week program for £100, this is just £8 ($10) per month for as long as you think it's useful.

They are not just tackling the "mummy tummy", they do much more than that. They won't just take your money and that's it because your £8 ($10) a month gives you access to the forums which are monitored by Post-Natal experts, including Peter, where you can ask any questions you may have, safe in the knowledge that the answer you will get will be correct and safe for you.

Let's be clear; This is not to help you "lose that baby fat" or "get you your pre-baby body back". Of course the exercise will help you lose weight but that's not the aim of what they do.

The mission is to give you your health back, and to make you fitter and stronger than you've ever been…Did I mention it's only £8 ($10) a month?
You'll find some welcome differences between the website and some of the others out there so have a look round the website; get a feel for the place and then sign up to your FREE 7 day trial.

After 7 days we'll only charge you £8 ($10) a month.

So why not click that button and get your health back today?

EH? EH? sounds good, right? Its the sort of program all new mums (and existing ones) need, its not about getting the "dream body", it's about getting your body strong again, improving function and all round health.

The site is very easy to use, with week by week exercises, videos and explanations – easy to do while the baby is napping or like me they can join in. Cassius thinks it's playtime.

As many of you may know, I'm not stranger to fitness. I attend boot-camp HIIT classes up to 3 times a week and when the weather allows I run, so I am not looking for weight loss with this program as what I do at my regular workouts doesn't target the issues I gained through pregnancy.

My main thing is my stomach and posture, I will documenting monthly how I get on and if I see/feel any changes.

Why not join me? Sign Up here https://www.healthypostnatalbody.com
Disclaimer : I was given a free membership in return for sharing my experience