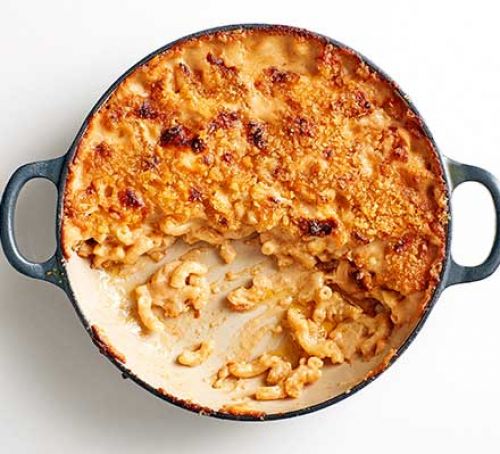 PERFECT MACARONI CHEESE
I am the biggest lover of this classic, Macaroni and Cheese! I cant resist the stuff and have fond memories of wet Saturday afternoons with my gran, grating a mountain of strong cheddar and waiting, not very patiently for the pot of golden yummi-ness to be ready.
Its also my daughters favourite meal – so I make a lot of MAC AND CHEESE!
Everyone loves macaroni cheese. Marlene Spieler has written a whole book about the stuff. America boasts more than one restaurant serving nothing else.
Whatever its alleged southern-Italian roots, it's a dish which we can safely embrace as an Anglo-American classic, which means I can merrily throw all notions of "authenticity" to the wind, and simply go with whatever tastes best.
I've decided to stick to plain macaroni and cheese here, rather than exploring any of the near infinite variations on the theme – you can try out Thai red curry mac and cheese on your own time.
Simplicity is the key to macaroni cheese… nothing should leap out at you except a clumsy, gooey richness. There's no cream or spice here: just a plain white sauce, a modest (A LOT) amount of cheddar, and some pasta.
Perfect macaroni cheese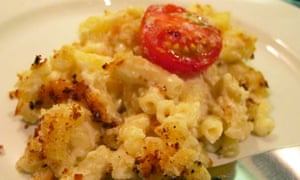 Macaroni cheese is all about familiarity and comfort: introducing strong flavours like onion, or parmesan, while undoubtedly delicious, misses the point. It should be subtly cheesy, creamy and soft – not too dense, or modishly al dente, it's a dish that embraces the Victorian values of modesty and quiet, plain simplicity.
Serves 2

200g macaroni
35g butter, plus extra for greasing
25g plain flour
450ml whole milk
Grating of nutmeg
½ tsp English mustard powder
50g mature cheddar
1 slice of white bread, made into crumbs
1 tbsp grated parmesan
2 tomatoes, halved
1. Cook the macaroni in plenty of salted boiling water until tender. Meanwhile, melt 25g of the butter in a pan, and stir in the flour. Cook, stirring, for a couple of minutes, then gradually whisk in the milk until you have a smooth sauce. Cook, stirring, for a few minutes until it thickens, then add a grating of nutmeg and the mustard and stir in the cheddar until smooth. Take off the heat, and season to taste.
2. Pre-heat the grill. Drain the macaroni and rinse under cold running water. Grease a baking dish with butter, then combine the pasta and cheese sauce and tip into the dish.
3. Melt the remaining butter and then toss it together with the breadcrumbs and the parmesan. Spread over the top of the dish, then arrange the tomatoes, cut-side up, on top. Grill for about 10 minutes until golden and bubbling. Allow to stand for five minutes before serving.
Is macaroni cheese classic comfort food, or bland pap for Victorian palates? Do you prefer the outrageously cheesy, American style, or the more understated British dish – and will anyone come out and proudly admit they prefer the packet version?