Scentered Aromatherapy Balm Review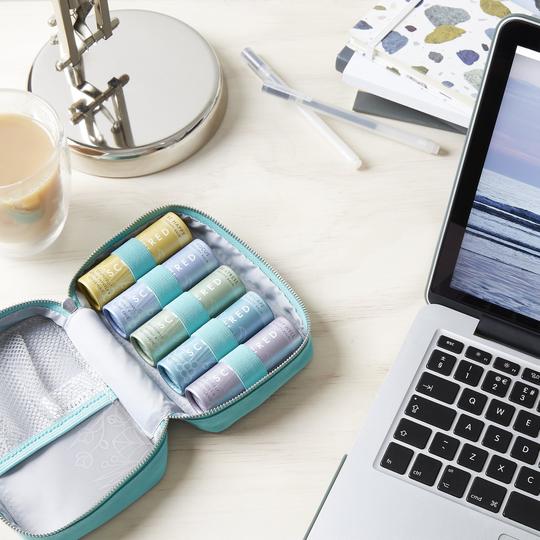 Scentered Founder, Lara Morgan, travelled the world hundreds of days each year and realised the need for portable aromatherapy products to support her mindful transitions from home to office to travel to "me time".
Scentered was created to meet the demands of eco-conscious consumers hungry for natural, portable aromatherapy and essential oil solutions to help them mindfully transition their moods, thoughts and emotions from moment to moment on demand throughout their everyday journey.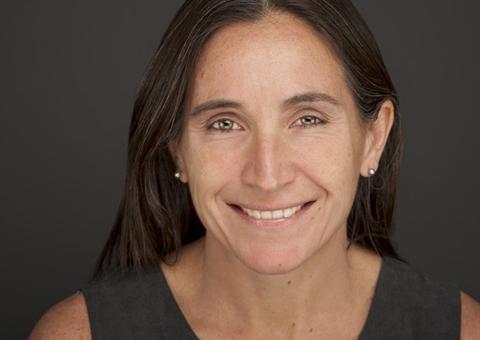 100% natural, essential oil-based Aromatherapy Balms, Candles, Hair Care and Body Care products provide portable solutions to support mindful transitions through life's everyday journey.
Scentered's plant-based aromatherapy products are uniquely blended from the finest ingredients sourced around the world to deliver need-based solutions. When applied to your pulse points, the balms provide an instant, personal sensory experience, whilst our candles create a shared sensory experience through ambience and mood-setting.
Scentered – https://scentered.com/
LOVE Aromatherapy Balm – https://scentered.com/products/love-therapy-balm-sleeve On Instagram, could you please tag @iamscentered
LOVE Wellbeing Ritual Aromatherapy Balm
The warm and comforting LOVE blend was created to help rebalance and reconnect emotionally. For when you want to feel connected with others or times when you need soothing self-care, it's like a hug you give to yourself.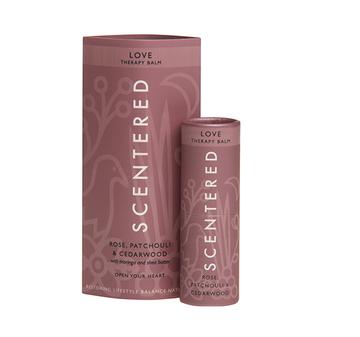 The woody oriental scent with top notes of Orange and Clove,  heart-warming Rose and Ylang Ylang helps to promote emotional connectivity. Wrapped in the rich woody base notes of grounding and calming Patchouli, Vanilla, Cedarwood & Cabreuva this blend will transport you into the perfect mindset, supporting your emotional connection with yourself and others.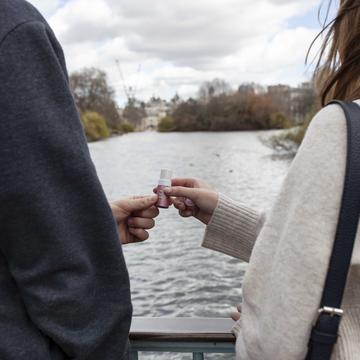 Our 100% natural Aromatherapy Balm is mess-free and won't leak or spill in your bag. Use LOVE as part of our Wellbeing Ritual.  A woody oriental scent, with spicy citrus top notes of Orange and Clove, and heart-warming floral Rose and Jasmine notes, all wrapped in the rich base notes of Patchouli, Vanilla, Cedarwood & Cabreuva.
Signature Ritual Collection
Scentered's Ritual zipper pouch containing our Signature Ritual Collection of five full size 5g balms FOCUS, DE-STRESS, HAPPY, SLEEP-WELL and ESCAPE.
This travel-friendly purse is made from recycled water bottles and designed to be used for life, to minimise our impact on the environment.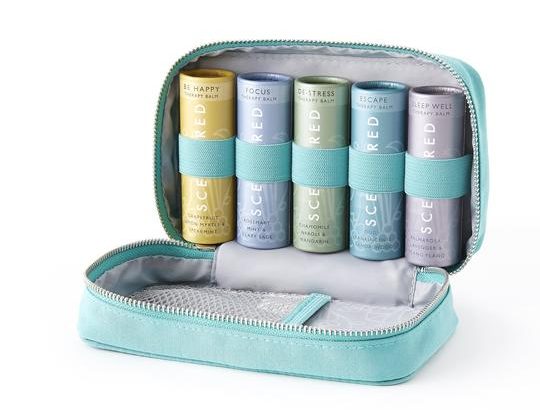 A thoughtful gift guaranteed to help your nearest and dearest feel their absolute best every day. Our 100% natural, essential oil based Aromatherapy Balm is mess-free and won't leak or spill in your bag. Use as part of our Wellbeing Ritual. Not recommended for use in pregnancy.
DE-STRESS – A remarkably soothing blend to help you juggle more throughout your day, keeping you calm and in control. It's your portable companion to support you through life's everyday journey.
HAPPY – Our uplifting citrus and mint blend delivers an instant burst of positivity and is perfect when expressing moments of gratitude. Delightful Grapefruit helps lifts your spirits, while Lemon Myrtle energises and refreshes, and Spearmint is both uplifting and positive.
SLEEP WELL – Our sophisticated floral lavender blend harnesses the therapeutic benefits of Lavender, Chamomile, Palmarosa and Ho Wood, and balances them with Bois de Rose and Geranium. The Patchouli, Clove and Ylang Ylang heart brings a modern oriental twist.
FOCUS – Beautifully blended with Rosemary, used for millennia to increase alertness and boost memory, Mint to helps stimulate mental activity and increase focus on cognitive tasks, and Clary Sage which aids in relieving mental fatigue and promoting mental clarity.
ESCAPE – When it's time to shift gears from doing what you "have to do" to doing what you "want to do", the grounding ESCAPE blend instantly transports you mentally to "me time", whether that's a yoga class or a good book.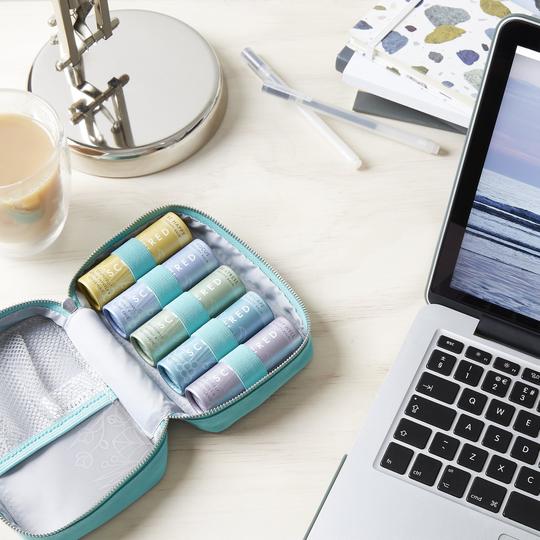 How to use
Apply – balm directly to your wrist, neck and temples or light a Scentered candle to purposefully fill the room with mindful meaning.

Inhale – Raise your wrists or candle to your nose and deeply inhale, visualising the mind state you wish to achieve in this moment.

Reset – Exhale deeply as you step into the next moment of your daily journey.
As someone who is affected by scent and a background in aromatherpy, this is a great little set for me.
Each morning I smell which one is the strongest and that's the one my body needs that day.
I love the fact you can mix and match them.
This is definitely a set I will be recommending in future – a lovely little treat for yourself or those you love.
What do you think of this set by Scentered, does it sound like something you could utilise? 
Scentered – https://scentered.com/
LOVE Aromatherapy Balm – https://scentered.com/products/love-therapy-balm-sleeve
Instagram @iamscentered