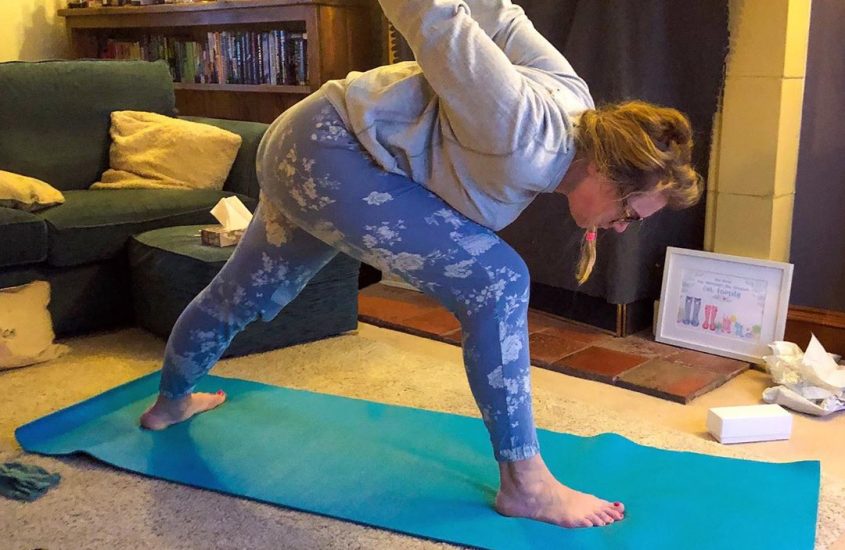 After a week off while I sunned myself in Rome, we are back and its with the much loved The Other Mum feature! This one is a good one; we have WEESLICE The forever funny insta-story queen. If you are not following this gal, you need to get on it NOW!!! WeeSlice

I'm Nicola, 34, mum to Lola (almost 3) and Lockie 8months. We're about to leave Edinburgh for the simple life further north to be closer to my husband's distillery business. I'm studying social media management so very lucky I can work anywhere! I love Hosting guest Q and As on Instagram live, watching RuPaul's Drag Race and eating Guylian chocolate seashells for breakfast.
Are you from Edinburgh? If not how did you come to live here? I'm from Dunfermline in Fife.. which until the 17th century, was the capital of Scotland *insert nerd emoji* That said, I went to school in Edinburgh and have lived here for as long as I've had two eyebrows instead of one, so I don't really consider Dunfy home.
Before Kids, where would we have found you on a Saturday night? When I was single, I would have been doing hot yoga.. or at home in my pjs eating ice cream for dinner, enjoying the simplicity of life between boyfriends. Once married.. you'd find me at home in my pjs eating Thai, enjoying the simplicity of life before kids.
What is your average Saturday like now with kids? Big Slice works Monday – Friday so come the weekend, I have a team mate. We have breakfast together in the morning, followed by a dog walk. We then come home for lunch followed by a full family power-down from 12:30-2:30pm. The afternoon is often weather dependant but sometimes we'll visit family, go to the park, or brave an early dinner out somewhere kid-friendly. 9 times out of 10 by 7:30pm all is quiet so I'll be in my pjs firing up Netflix or speed dialling some take out.. there's a theme emerging here, isn't there?
What did you find hardest about having children? The all-consuming sleep deprivation. Getting very little-to-nothing back for at least the first 6 months.. and having to share my food.
Tell us a time when becoming a parent blew your mind. What challengeshave you faced? A couple of months ago, Lola said "Mummy, I love you very much" for the first time. Yesterday, Lockie waddled over, jumped on top of me with his arms out and gave me a huge hug and kiss. Moments like that make his 3am screaming and Lola's impromptu fortnight of shouting "f*** sake!" 18 times a day that little bit easier to handle.
If you have a quiet childfree afternoon in Edinburgh, where would you spend it? The babies are in nursery 2 days a week so I frequently tell myself I'll do nothing one day and catch up on sleep, but I always end up running around like a blue-bummed fly instead. Whether it's running errands, doing chores, catching up on body maintenance (I can't face the world without hot pink nails) or attacking Weeslice's inbox, the free days always seem to be the fastest.
Favourite place for a cocktail with the girls? This is a tough one because I worked in the drinks industry for a while, Big Slice still does. For a smart/casual catch up with the girls, it would probably be any of the Big Red Teapot venues; The Blackbird in Tolcross, Hamilton's in Stockbridge, Treacle on Broughton St or Voyage of Buck in the West End. The guys don't take themselves too seriously, the drinks menu is given a full refresh seasonally and the venues' individual aesthetics are executed to a really high standard. The rubber duck ceiling box light in VoB is an Instagrammable must. Your hidden gem in the city? For views, it's Blackford Hill where I dog walk every day. It's a full panorama of the city, across the river Forth and out to Fife. For food, it's a Spanish tapas restaurant called La Sal tucked away behind Causewayside & South Clerk St. Tiny, authentic & casual as hell, it's divine. For date drinks, it's got to be the snug in Morningside's Canny Man, or the snug in World's Best Bar regular, Bramble, on Queen St.
What do you love most about being a parent in Edinburgh? I love that I can visit any of my Edinburgh-dwelling friends within 20 minutes. I love that there is so much to do here and so many interesting places to go. We're trying to raise the children to be hardy; dog walking in rain or snow, wind or shine.. Swayze knows – in this city it's not out of the question to suffer all 4 at once.. 😉 #fun#guest#Kids#mum#parenting