The Ultimate 'Sports Bra' of Pumping Bras – Nurturally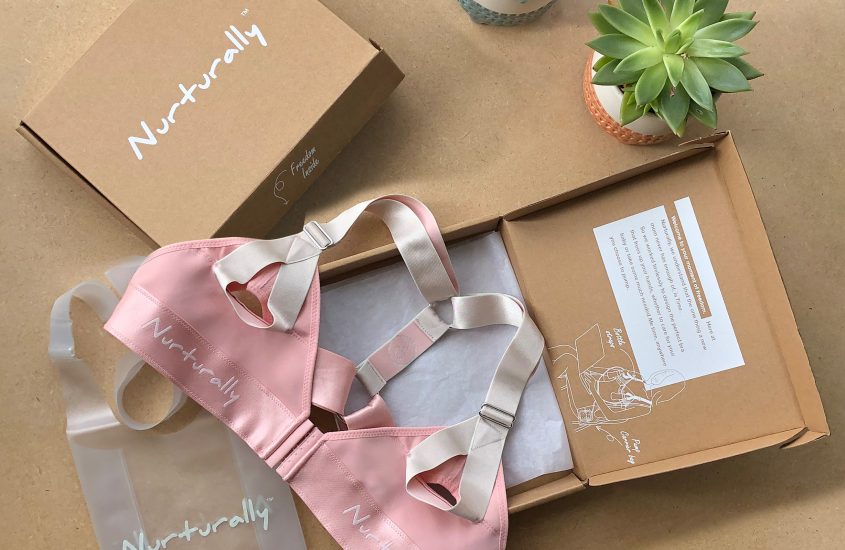 Nurturally Hands Free Pumping Bra designed to prevent leakage and help mothers reclaim their precious 'me time'
Pumping can be an empowering part of motherhood but can also feel near-impossible, stressful and time-consuming for mums trying to juggle their newborn and the endless cycle of feed, express, repeat.
Design house Chrome Cherry created the Nurturally Truly Hands Free Pumping Bra in response to the challenges faced by mums all over the world and, ultimately, to empower breastfeeding mums to continue their feeding journey in comfort for as long as they wish.
With a unique sports bra like design and 'sling' bottle holding system, it has been engineered to work with any pump and maintain close suction connection between breast and pump, preventing any loss of precious breastmilk.
The hands free design is revolutionary for time-poor mums and enables them to move around and multi-task while expressing, without worrying about leakage. It also protects sensitive breast tissue with continuous support even as bottles become heavier.
It offers excellent support and comfort and is beautifully designed, in high-quality shimmery material and soft colours that will complement any wardrobe. The unique rib-cage band and front and back rings mean it can move easily between sizes S and XXL with no need for fiddly zips or extra bits of material. It also comes with a semi-transparent pump carrier bag that allows the user to transport and use their pump with any touch screen device.
The Nurturally Truly Hands Free Pumping Bra was created by a husband and wife team after the birth of their first child. Struggling to find a pumping bra on the market that didn't leak as bottles become fuller, the new mum challenged her engineer/ product designer husband Pierre Swart, CEO of Chrome Cherry Design Innovation, to design a better option.
Tally Lister, one of the first mums to try the Nurturally bra, said,
"I had tried a couple of pumping bras but found them to be more trouble than they were worth. They either put too much pressure on the breast which caused leakage, were uncomfortable to wear, too fiddly, with zips to fasten while holding the pump in place, or had too much material making it difficult to see when fitting the pump. Most of them required you to support the bottles as they became heavier otherwise they leaked, which wasn't only frustrating but also meant the bra got covered in breastmilk and needed to be washed each time. The Nurturally bra changed all of this, it's simple to fasten and the eyelets in the cups make it easy to see what you're doing when inserting the pump. It's designed completely differently to anything else I've tried, and it works, meaning I can use it hands free and trust that it won't leak."
Key features of the Nurturally Truly Hands Free Pumping Bra include:
· FIRM HOLD: The patented Bottle Holding Sling Design means that breastfeeding mums can free up their hands and move about confidently without ever losing suction. The adjustable shoulder straps hold the increasing milk load and prevent leakage, without putting pressure on sensitive breast tissue.
· ENGINEERING DESIGN: Created by new parents; she a first-time mum trying to find a solution while nursing, he an engineer and product specialist. Taking an engineering approach to the design solves many problems experienced by other bras including leakage, comfort-levels and the need for fiddly size adjustments over time.
· HIGHLY ADJUSTABLE: Fully adjusts to fluctuating bra size or size changes with ease and no loss of performance. The waist bands and shoulder straps can be adjusted to fit sizes from S to XXL, with the ability to also extend the distance between the cups using the front fastener.
· COMFORTABLE: The bikini-shaped cups adapt easily without compromising comfort.
· PRACTICAL: The eye-shaped cut of the cups allows for easy insertion and removal of the breast shield and firmly holds bottles when full. It also makes it possible for the mum to see the nipple when inserting the cup.
· BEAUTIFUL DESIGN & PACKAGING: Our first time mom wanted it all, from perfect function to the same stylish quality as her premium underwear. This was certainly achieved with the shimmery calming nudes and soft pinks that go under any colour clothing. The bra will complement any outfit even if visible under straps etc, meaning feeding mums need not compromise on style for the sake of function. It comes in elegant packaging, perfect for gifting and baby shower registries.
· HAND EXPRESSION: The design allows access for hand expression while pumping.
· FREEDOM TO MOVE: A semi-transparent Pump Carrier Bag is included, allowing the pump to be carried and used while moving around.
Available from: https://www.amazon.com/dp/B085114T6L?ref=myi_title_dp
Read More: https://lovenurturally.com