TIPS TO CREATE THE PERFECT WFH ENVIRONMENT – BUZZ HOME OFFICE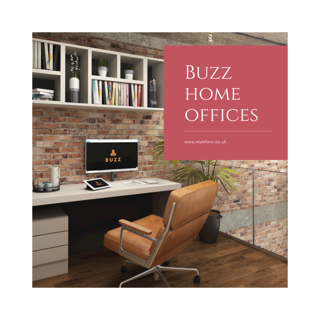 TIPS TO CREATE THE PERFECT WFH ENVIRONMENT – BUZZ HOME OFFICE
I have recently been working from home as part of continual govt guidance, as many of you, but have you had the chance to stop and think about this being more permanent? Instead of a cobbled-together dining table scattered with homework, office chair and books propping up your laptop, think more about how you can integrate WFH as a positive opportunity and make it work with your family.
I have been working with Buzz Home Office to bring you the five essential things everyone needs to WFH well: light, temperature, air, pleasant furniture, and a strategy for minimising distractions.
Few of us have space or a spare bedroom where we can shut out the noise of the world. But that may not be strictly needed.
So here are my top tips for creating the perfect WFH space
TIPS TO CREATE THE PERFECT WFH ENVIRONMENT – BUZZ HOME OFFICE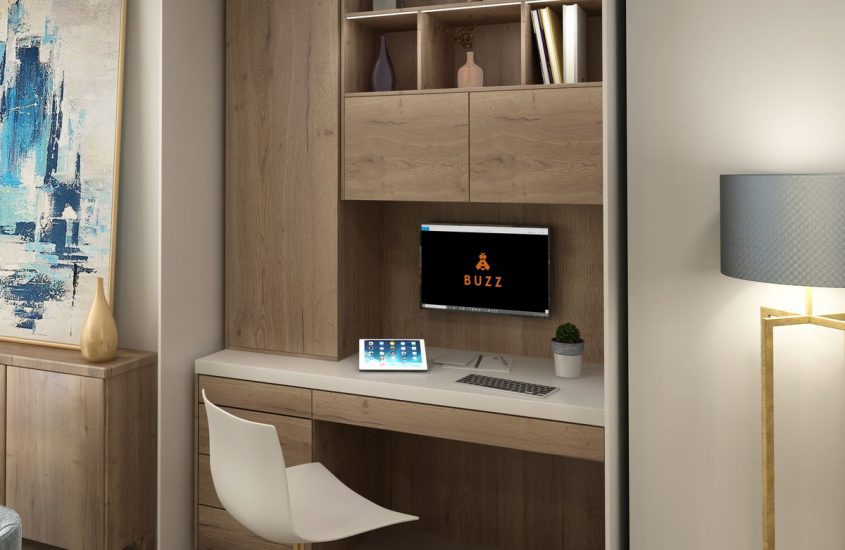 Find your spot
The first step: find the spot where you'll be the most productive. If you live in a small flat or home, you may not have many options, but in a larger home, hunt out a place that will be out of the way. Ideally, you'll be searching for a spot that's both away from potential distractions (whether that's a TV or all the snacks) and that receives good light and ventilation. When space is more limited, a little nook under the stairs or a cosy alcove might be the perfect location and working with the Buzz Home Office experts to make this space both stylish and productive might be the best solution. Buzz can help develop fully bespoke and integrated home offices to fit even the most awkward spaces.
Lighting
Some of our homes aren't blessed with lots of natural light, and so, if a nice sunny window isn't an option, you will need good overhead lighting. If possible, introducing integrated lighting can be such an effective way to limit eye strain and get you in the zone, but if that's not possible, even a good table lamp or standing light will help create a well-lit desk area. I love the idea of integrating lighting into your desk area, as light is such a huge priority for me.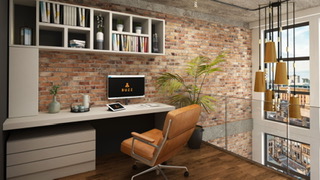 Sitting pretty
If you're like me and want to find the balance of a productive and inspiring workspace but also want this to fit in with the style of your home, it might be that working with a company that provides design advice and bespoke office layouts is for you. You can then create a fitted desk and storage solution that fits your aesthetic while ensuring space works for your family home.
Also, finding a comfortable chair but also provides back support for you is so important – I've learnt that the hard way! Stylish cushions or a draped blanket can help with the comfort and style factor.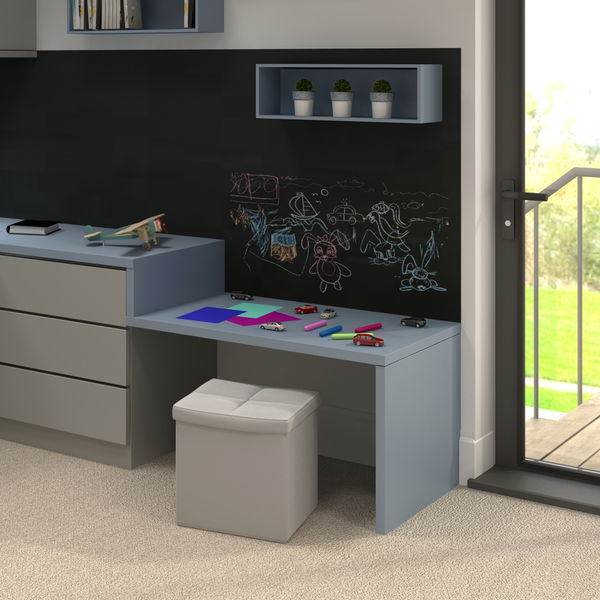 Powerpoints
Ensure you are located close to your power points; you don't want extension cables trailing around the room, ruining the aesthetic. If you are brilliant, you can hide all the wires and still use your computer, phone, printer—at the same time!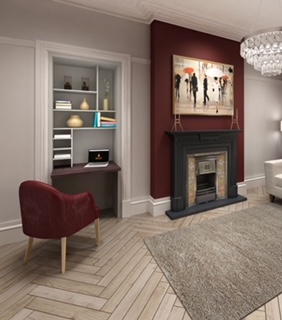 Get ready for your close up.
If you are doing lots of video meetings, look at what your colleagues will be looking at. A plain wall is a good backdrop as it's not too distracting, and plenty of good lighting (see above) or natural light will make the video look more professional. Make sure your WIFI is strong in the area – there's nothing worse than connection problems when trying to send that important last-minute email.
Put it away
Keep baskets or file holders on or near your desk to help keep your paperwork nice and tidy. Buzz Home Office are dab hands at this and happily chatted through some solutions with me. Storage is essential, so when the working day is done, you can put it all away and feel a separation between working at home and living at home. A neat and clean work surface is essential to mentally stay focused on the task at hand. The organisation is everything.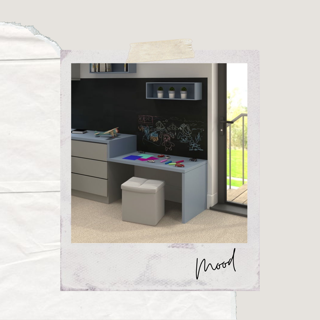 These are just a few simple tricks you can use to build a more comfortable and productive home office. Choosing the right decor, installing ambient lighting and maintaining a clean office environment will help you get more done.
The design team behind Buzz Home Office can help you create a hive of productivity with a stylish home working space that is built especially for you, no matter how limited your area is
If you would like to work with Buzz to create your own stylish hive of productivity then you can use the code MUMFORCEBUZZ on the contact form at buzzhomeoffice.co.uk or by calling the team on 01324 463810 for £100 off any order.
TIPS TO CREATE THE PERFECT WFH ENVIRONMENT – BUZZ HOME OFFICE