TOP GAMES FOR CHRISTMAS 2020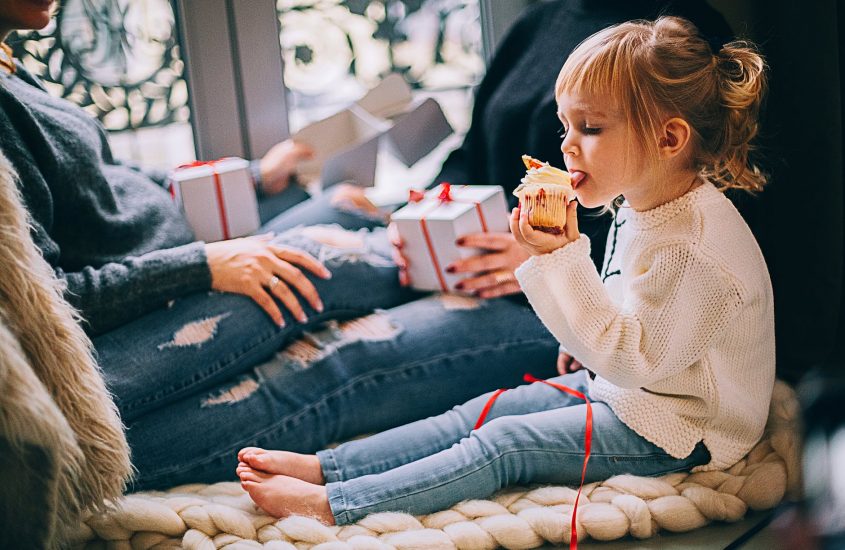 TOP GAMES FOR CHRISTMAS 2020
Games have been on the rise this year, since families are spending more time at home. So what better gift to give this Christmas than games that can be enjoyed by everyone, of all ages.
Here are some of our favourites…
PASS THE PUGS
The infamous game 'Pass the Pigs' launches PUGS! Who will be first to 100 points?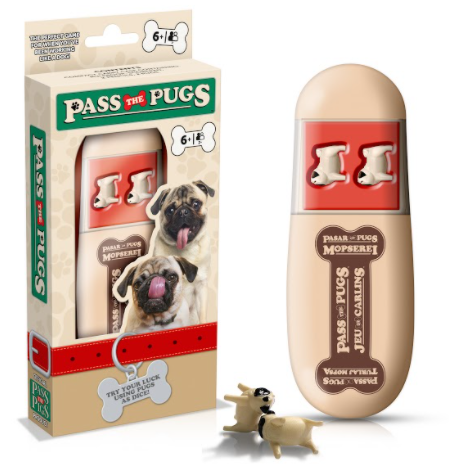 The infamous game Pass the Pigs has launched their first ever variation (that isn't a pig), PUGS! Be the first to get to 100 points by throwing the pugs in the air and seeing how they land. Will your pugs 'play dead', 'faceplant' or will it be 'puppy love'?
LAUNCHING NOVEMBER 2020
Pass the Pigs has been an iconic brand for over 50 years
Includes pencil and score pad, that all pack into a plastic carry case, great for on-the-go!
Available on Amazon.co.uk / Age 8+ / RRP £9.99
Lex-GO! Word Game
The Super-Fast Word Game from Waddingtons No1. of London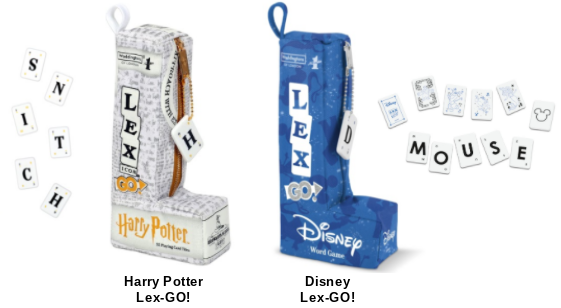 Race against other players to get rid of your word tiles by swapping letters and even stealing your opponents' tiles. There are two versions; Harry Potter and Disney (launches November) and both include special tiles that help you win the game
Harry Potter version has 4 special spell tiles incl. Revelio and Depulso that help you win the game
Disney Classic (LAUNCHING NOVEMBER 2020) version has 4 magic tiles incl. Genie and Wreck it Ralph, that help you win the game
Waddingtons No1 has been an iconic British Heritage Brand over 130 years
Game for all ages, but helps children with spelling and vocabulary
All tiles pack into a neat canvas pouch, great for storing and on-the-go.
Available on Amazon.co.uk / Age 8+ / RRP £14.99
TOP TRUMPS
The UK's favourite card game for over 40 years
High res images for any topics available upon request
Top Trumps is the game packed full of stats and facts on all your favourite topics including films, TV shows, animals and more! With hundreds of topics to chose from, there is a Top Trumps pack for everyone, no matter your age.
Titles include: Marvel, Harry Potter, Road Dahl, World Football Stars, Frozen II, Baby Animals, Dogs, Bugs, Trolls, DC Comics, Cats, Volcanoes, Snakes, Friends, Cars, Creatures of the Deep and MANY MORE!
Top Trumps is the UK's #1 card game (iGen research)
Over 100m packs sold across the world
Fun, but educational (camouflaged learning)
Includes 30 cards
Plastic case is great for storing and on-the-go
Available on Amazon.co.uk / Age 6+ / RRP £4.99
TOP TRUMPS QUIZ
500 quiz questions on hot topics

Top Trumps Quiz with a twist! 500 questions on loads of different topics, films and TV shows.
500 questions on 100 cards
Plastic case opens on both sides, ready for battle and also great for storing and on-the-go
Available on Amazon.co.uk / Age 8+ / RRP £9.99
TOP TRUMPS MATCH
The crazy cube game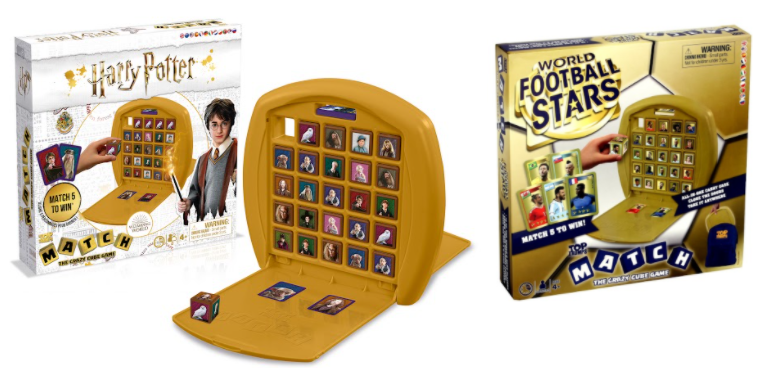 Be the first to match 5 of your favourite characters in a row by pushing the through cubes
15 characters to chose from
No set-up required, the game is ready to play!
Introduction to strategy for kids
All cubes pack into a neat plastic tablet, so no need to keep the box – great for storing and on-the-go
Available on Amazon.co.uk / Age 4+ / RRP £15.99