Virtual Bra Fitting with Sarah C: Lingerie Fitting & Styling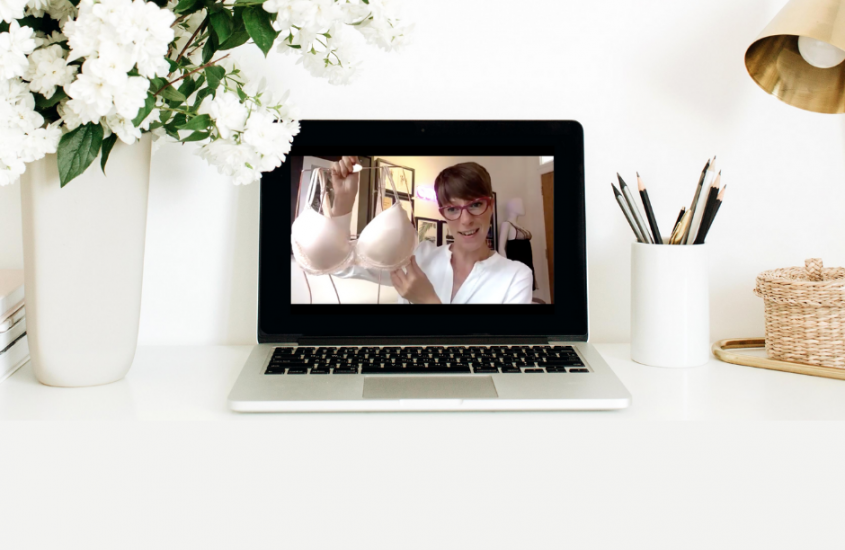 Anything can happen over Zoom these days especially in the time of COVID—bra fittings included. It seems counterintuitive to the process, but that's exactly what I set to find out with Sarah C: Lingerie Fitting & Styling Virtual Bra Fitting.
I'm not particularly shy about my body around professionals—it's their job to get hands-on. (In public is a different story.) But over the Zoom app on my ipad, I didn't have to worry about awkwardly standing in front of a mirror with harsh lighting while someone poked and prodded at my boobs. Sarah did my consultation was professional and thorough. I explained over the camera that my biggest issues with bras are support and my band slipping, and how I always end up either with a bra that fits in the band but is too small in the cup, or it's right in the cup but slips up. You know, classic big-boob problems!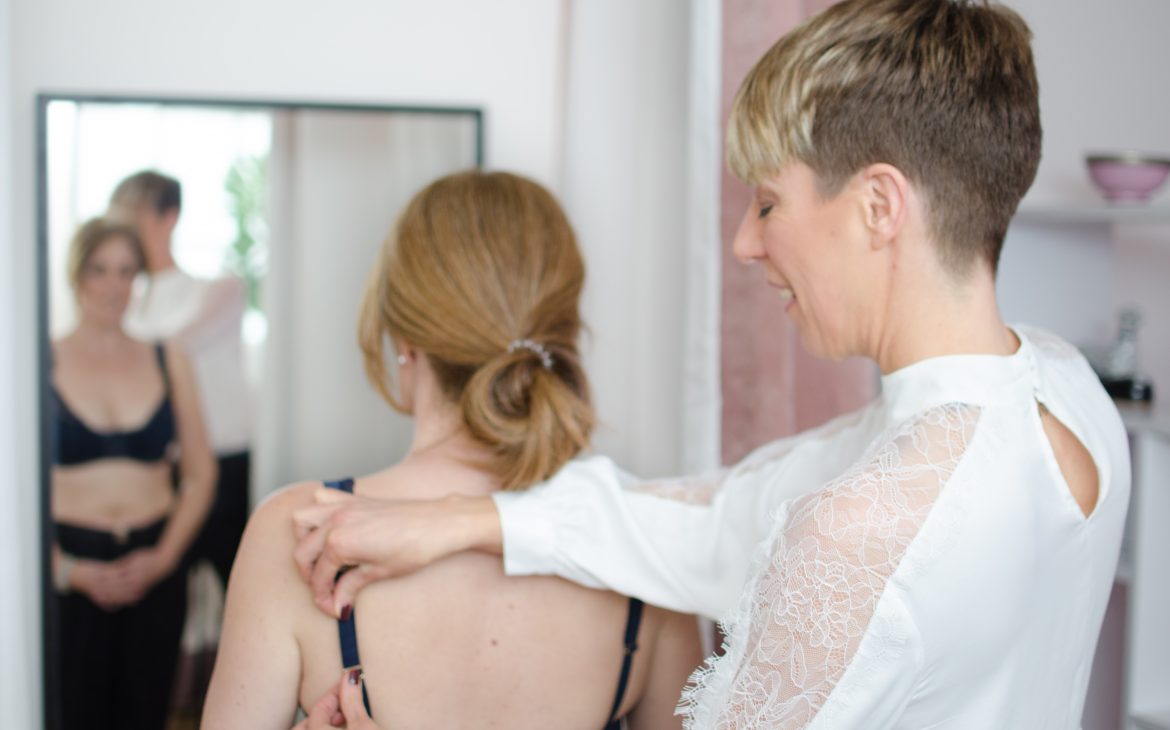 Sarah was so lovely, and she made the possibly awkward experience fun and easy, like talking to a friend. It was much less invasive than an in-person bra fitting—all measurements can be done over the shirt, no one is adjusting your boobs but you—so if you're shy, it's a perfect solution.
The fitting was quick and over in minutes all in the comfort of my own home.
Here is what Sarah sent me after –
"My recommendation would be to try a slight size change – a 32F or where the cup is neater try a 32FF too. Making the band fit more firmly will keep the underwires flat against your ribs to stop you sliding out, and will keep straps on your shoulders without you having to fasten them so tightly.
I think you'll love some of the Fantasie and Freya styles, and John Lewis's own brand do some lovely pieces too."
Sarah has also kindly sent a quick quiz and some tips for you to help find the perfect bra fit.
To help you work out whether your bra fits properly, answer these 4 quick questions and find suggestions below for how to improve fit and comfort.
Jot down you're A,B or C response to each question and scroll down for expert tips to you can use today to improve shape & support.
Does your underwire…
A. Rub or dig in?
B. Stand away from your chest between your breasts?
C. Sit flat and comfortably against your body?
Does your band…
A. Ride up at the back and need adjustment throughout the day?
B. Fit very tightly and dig in?
C. Fit firmly and smoothly?
Do your cups…
A. Run over – bulging across the top or under your arms?
B. Have gaps or wrinkles – particularly over the top edge?
C. Sit smoothly around your full bust?
Do your shoulder straps…
A. Slip off?
B. Dig in?
C. Neither
Now let's find out.
Did you get…
Mostly A's
My two top tips to make your bra a pleasure to wear…
#1 – Try fastening your bra one hook tighter or going down a band size for a more secure fit. It should feel firm but comfortable right around your ribs. #2 – To give you even better support try increasing the cup size too. With the underwire held securely against your body your bra will be a joy to wear all day long.
Mostly B's
It sounds crazy; but gaps across the top of your bra usually appear when the cup size is too small. Try increasing by one cup size to give your boob a better bra space to rest in. This should eliminate any tightness at the sides and back of the bra too.
Mostly C's
Your bra fits perfectly! Stay comfortable & confident with frequent fittings and have fun experimenting with styles!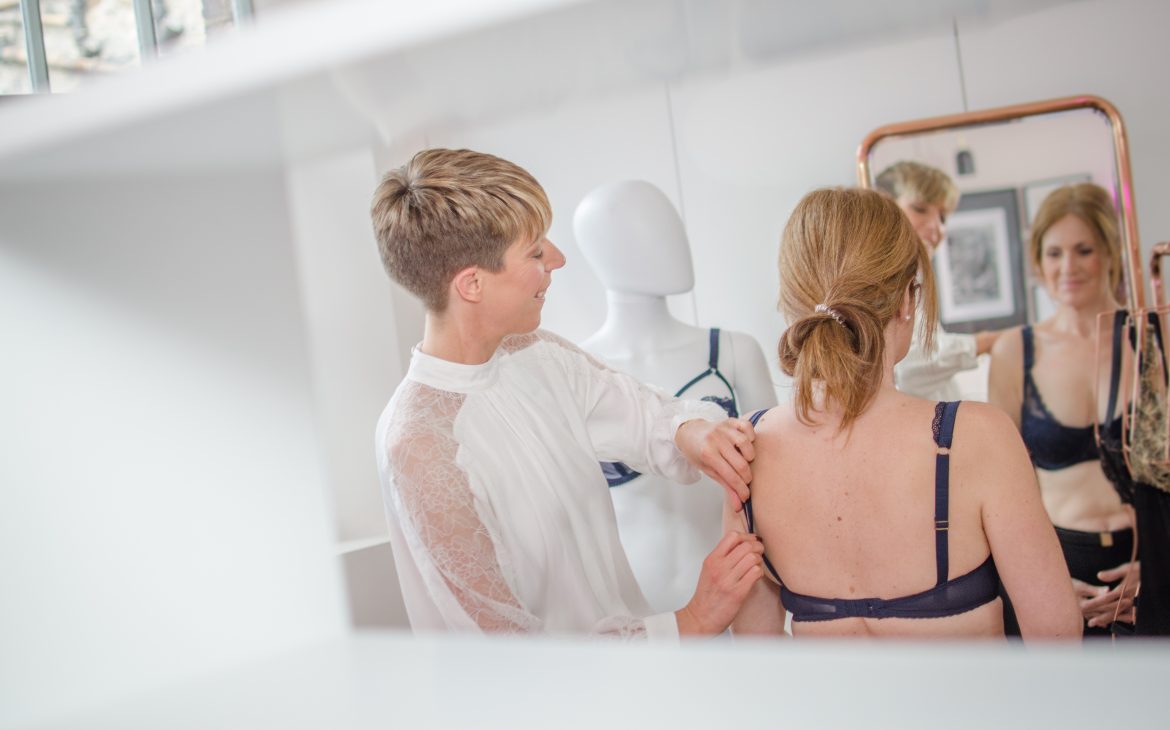 About Sarah
As an independent Lingerie Fitting & Styling specialist with over fifteen years of experience helping women find lingerie that fits, flatters and makes them feel fantastic I fully understand the nuances of well-fitting foundations and the impact on a woman's silhouette.
But I totally get that changes to our bodies after months of lock-down and having the confidence to get up-close & personal with a stranger in a cubicle for a bra-fitting is overwhelming for a lot of women too.
So many women avoid having a proper bra fitting because they're busy, embarrassed, or don't know where to begin. Which is why I created a Virtual Bra Fitting service to help women work out their size, give personalised guidance to optimise comfort & confidence, without you having to leave home.
So, if you want to know whether it's time to replace a favourite bra, or if you should keep or swap a new purchase for something better? Book a Virtual Bra Fitting at https://www.sarahconnelly.co.uk/virtualbrafitting .
Sarah C: Lingerie Fitting & Styling
IG: @sarahc_lingerie
For inspiring ideas to transform your lingerie style including expert tips on the 7 Delicate, Sexy & Beautiful lingerie styles EVERY woman can wear, click here download your complimentary look-book. >>> https://www.sarahconnelly.co.uk/7-lingerie-styles/