exclusive jewellery collection to raise vital funds for Alder Hey Children's Charity.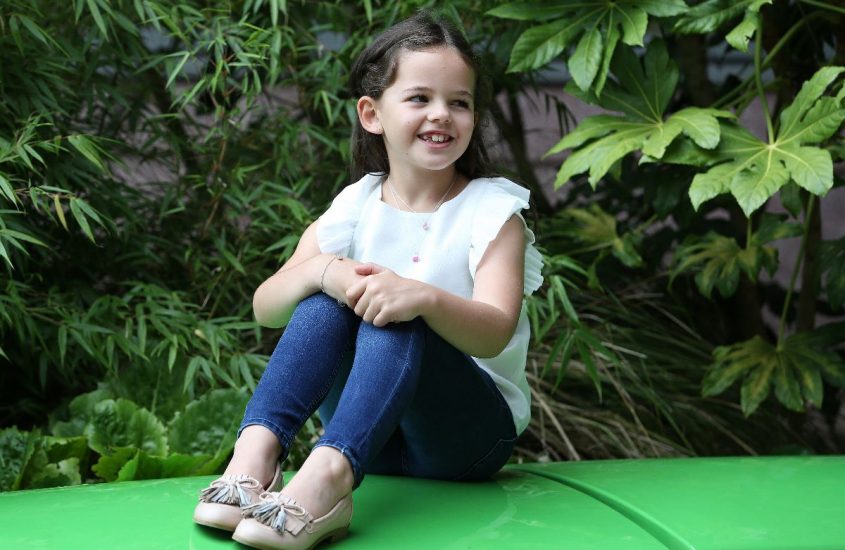 Raising vital funds for Alder Hey children's charity
Liverpool based Wongs Jewellers are launching an exclusive jewellery collection to raise vital funds for Alder Hey Children's Charity.

The Oli the Elephant Collection has been especially created for the charity and will include a range of beautiful sterling silver jewellery featuring a motif of Alder Hey's charity mascot Oli the Elephant.

The limited edition collection which will be available from 12.00pm on 12 November 2019 and the publicity campaign will feature Alder Hey staff and patients who have been chosen to model the jewellery.

Children chosen to model the jewellery are all patients at Alder Hey and include 9 year old Esme who is also a member of Alder Hey's Young Person's Forum, siblings Bethan (10) and Oliver (6) who have cystic fibrosis and Maisy, above (7) who has a rare congenital anomaly of the eye.

You can read their stories – https://alderhey.nhs.uk/wongs-press-release-page
Alder Hey is very close to the hearts of the Wong family. Mr and Mrs Brian and Susan Wong who founded the jewellers received great support from the Alder Centre; Alder Hey's
bereavement centre after the loss of their son David.

Wongs are keen to give back to Alder Hey Children's Charity and have raised over £120,000 through various fundraising activities such as a recent Dragon boat race and their annual
ball for Alder Hey. It's hoped the collaboration between Alder Hey and Wongs will be the start of a legacy in memory of David.

Peter Wong, Managing Director of Wongs said:
"This project has been a labour of love and we are overjoyed with the results. The collection, designed with love in our Liverpool city centre based workshop, will see beautiful blue and pink enamel Oli elephants taking the form of pendants, earrings and charms, along with solid silver pieces with Oli's statement stitching detailing.

"We hope that anyone who has been on a journey with Alder Hey, including children, adults and the fantastic teams that work tirelessly to save lives, will find these pieces really special and meaningful.

I'm proud to announce that 100% of the profits will be donated to the charity from Wongs Jewellers."

Fiona Ashcroft, CEO of Alder Hey Children's Charity said:

"We are so excited to have a special jewellery collection designed for us by Wongs Jewellers. Just like Alder Hey, the jewellery is something very special and we can't wait to
show it off. Very often, the impact Alder Hey has on a family will stay with them forever, and we hope that these beautiful pieces of jewellery will be treasured for a lifetime.

"We cannot say thank you enough to our friends at Wongs for their continued support of Alder Hey Children's Charity, and in particular the Alder Centre, our brand new bereavement building. We're really looking forward to celebrating their 40 th anniversary with them. Their continued generosity will be making a real difference to so many families.

"To launch our wonderful new jewellery collection we are going to bring a little sparkle to Alder Hey on 12 th November. The children will enjoy a jewellery making masterclass led by our friend and master craftsman, Brian Wong, and then join in the fun by making and decorating their own pieces to take home. We will also have a fantastic local choir joining us for a very special performance, which our patients, their families and the Alder Hey staff are going to love."

The sterling silver range includes earrings, bracelets, pendants, lapel pin, charms and cufflinks in silver and with pink or blue enamelling with prices starting at £30.

The new collection will be available to purchase in Wongs Jewellers on Stanley Street , in the Alder Hey Charity Shop at the hospital and also online at

https://www.wongsjewellers.co.uk/ and https://www.alderheycharity.org/
Or you can join the waiting list – https://www.wongsjewellers.co.uk/waitlist
100% of profits go to Alder Hey Children's Charity.