What A Girl Needs – Girlhood: The Story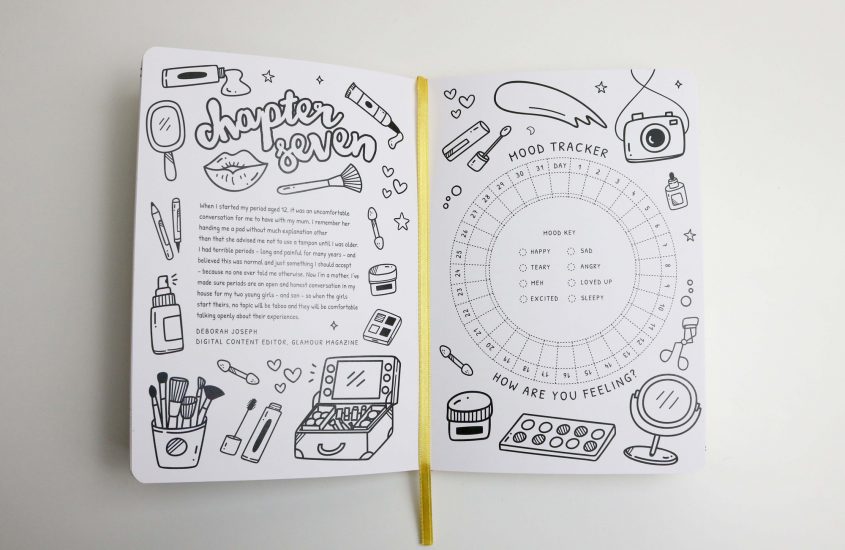 Inspirational women come together to share their first period stories to help girls celebrate womanhood – We are the hood
Newly launched, part-journal, part-guide, Girlhood: The Story, www.wearethehood.com, has been designed specifically for young girls to prepare, guide and support them through their journey into womanhood.
Following a successful launch on Kickstarter in March, hard copies of Girlhood: The Story are in production and available to pre-order now for delivery from June, priced at £20 for the hardback and £5 for a digital version.
We Are The Hood Co-founder, Maria Purcell explains: "Periods don't stop for pandemics and now is potentially the perfect time for families to open up the conversation around periods with their daughters while we're all on lockdown at home. World Menstrual Hygiene Day (28th May) is a prime example as to why we need to start controlling the narrative and encouraging young people to feel more positive about their periods."
We Are The Hood Co-founder, Amone Gbedemah adds: "For such a key stage of life, there is very little conversation about puberty with young girls in order to prepare them for the exciting and, at times, awkward changes ahead in a celebratory way. We want Girlhood: The Story to help to bring the celebration back into growing up, starting with the period, which represents a girl's first entry into womanhood."
Instead of the usual months for the year, Girlhood: The Story has 12 blank chapters so girls can begin capturing their own unique story of growing up. Each chapter of the journal begins with a first period story, generously contributed by inspirational women including:
Writer and activist Scarlett Curtis, Author of Feminists don't wear pink (and other lies) & It's OK to feel blue (and other lies).
Mika Simmons – Award-winning British film maker, actress, founder of the Lady Garden Foundation and host of The Happy Vagina podcast.
England Netball Captain, Serena Guthrie MBE
Gabby Edlin – CEO Bloody Good Period
BAFTA nominated Film Producer, Jo Jo Ellison, Producer of Notes on Blindness
Jaz Rabadia MBE, chartered energy manager and STEM & Sustainability Champion
Actress, Lashana Lynch
Bami Kuteyi – DJ, Owner of Bam Bam Boogie and diversity ambassador
Molly Fenton – Founder of the @loveyourperiod campaign
Maryam Montague – CEO of Project Soar
Glamour editor, Deb Joseph
Journalist, Matilda Stanley
Jules Mckeen – CEO Sarka London
Actress, Dominique Tipper
1 in 4 British girls say they felt unprepared for the start of their period and 1 in 7 report they didn't even know what was happening – Source: 'Break the Barriers: Girls' experiences of menstruation in the UK', Plan international 2018
About The Hood:
The Hood, www.wearethehood.com is a new, all female-founded British brand on a mission to 'redesign the world with women in mind'. The Hood is focussed on four main audiences: Girlhood, Womanhood, Motherhood and Sisterhood. In 2020, The Hood team is starting at the beginning, by working on solutions that seek to empower young girls from an early age through knowledge and community.
Maria Purcell, Co-Founder
Maria is a commercial business leader with extensive experience in the fields of strategy, growth, advertising, sales and marketing. She is committed to challenging traditional business models and ways of thinking, and to helping customers to find the solutions that work for them. With over 13 year's experience gained at businesses like Facebook and Uber, Maria is a results-oriented digital expert with a passion for all things tech. Maria has a Bachelors degree in Advertising and Media Production and a Masters in Design. A dedicated mother of 2, Maria was recently recognised as one of Top 50 Sales leaders in the UK.
Amone Gbedemah, Co-Founder
Amone has always cared deeply about applying her commercial and technology background to solving complex, real-life problems. With over 16 year's experience in building high-performing businesses and teams at companies like Vodafone, Facebook and Millicom, she has a deep track record in strategic, commercial, operational and marketing leadership in both mature and emerging markets. Amone holds a Masters degree in Electrical and Electronic Engineering from the University of Bristol in England, as well as from the Ecole Française D'Elèctronique et D'Informatique in Paris, France.